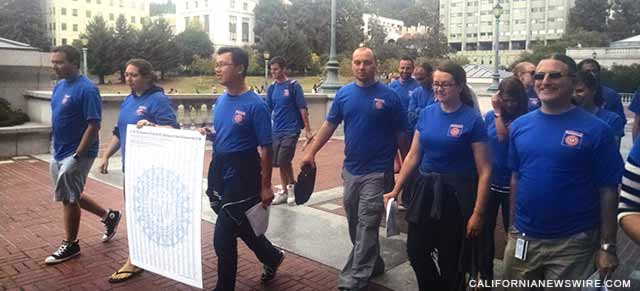 All across UC system, postdocs rally to demand fair treatment
BERKELEY, Calif. /California Newswire/ — UC postdoctoral scholars rallied at seven campuses yesterday and delivered more than 3,000 signatures demanding a fair contract to Chancellors' offices.
Postdocs, who have already earned their PhDs, perform cutting edge research at labs across UC. They are critical to UC's mission, working long hours to help the University secure patents and break new ground in subjects like cancer research, clean energy, physics modeling, and more.
The postdocs are demanding they be compensated fairly so they can take care of their families and continue to focus on their work. A large percentage are international academics who have recently immigrated to the U.S., and are seeking the same rights as their American counterparts to challenge unjust terminations.
The more than 3,000 signatures represent a clear majority of UC postdocs. They made their case to Chancellors and administrators on Monday, and have pledged to support their bargaining team in a strike vote if necessary.
With just two weeks to go before the contract expires between the UC and United Auto Workers Local 5810 (UAW 5810), which represents postdoctoral scholars at UC, UC has not responded to postdoc proposals on improving family-friendly policies, equal treatment for international postdocs, compensation, and more.
Pictures of Monday's events are below. You can learn more about UAW 5810 online at www.UAW5810.org, or join us on Facebook and Twitter.
Contact: Jacob Burstein-Stein 206-954-1938
*News based on press release as provided by UAW 5810.