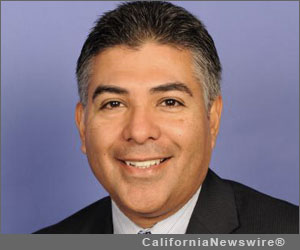 SAN FERNANDO, Calif. /California Newswire/ — Today, U.S. Rep. Tony Cárdenas (D-San Fernando Valley) introduced the America Can Code Act of 2013. This legislation would designate computer programming languages as "critical foreign languages" and provide incentives for state and local schools to teach more computer science beginning as early as Kindergarten.
The official short title of the name is believed to be unique among Congressional legislation. "416d65726963612043616e20436f646520" is the hexadecimal code translation of "America Can Code."
"The very name of this law demonstrates that programming is simply another language," said Cárdenas. "Learning and communicating in a foreign language can have a tremendous impact on a student, both culturally and educationally. Computer programming creates a similar impact, while also providing a critical skill in today's global economy."
Cárdenas was joined in introducing the bill by original co-sponsor Rep. Mike Honda, also of California.
Cárdenas introduced the America Can Code Act after noting that the growth of computer programming jobs at nearly twice the national average rate. According to the Bureau of Labor Statistics, the median annual wage in 2010 for computer programmers was $71,380, while the median annual wage for all workers was $33,840.
By 2020, there will be an estimated 1.4 million computer programming jobs, with only 400,000 American computer science students to fill those jobs. Nine out of 10 schools in the United States do not even offer computer programming classes and in 36 states, computer coding classes do not count towards high school STEM graduation requirements.
"American students should continue to receive the understanding of other cultures that foreign language learning creates, but we should also be preparing American kids to compete in the world marketplace," continued Cárdenas. "Millions of jobs are being created in America, and all over the globe, requiring some level of coding knowledge. Let's get American kids ready to compete for American jobs."
Along with redefining computer programming as a critical foreign language, the 416d65726963612043616e20436f646520 Act would create a competitive matching grant program for schools, particularly those in low-income areas, to create new ways to teach computer science and engineering, in tandem with universities and non-profits.