NEW YORK, N.Y. — JSM Music (www.jsmmusic.com), the largest commercial music production company in America, scored a major touch down at the Super Bowl having provided music for one of the top ad-spots during the game. JSM's music was featured on Pepsi's "Magnetic Attraction" advertisement which showcased the musical and acting talents of superstar performer Justin Timberlake. The spot also featured a cameo appearance by Dallas Cowboys quarterback Tony Tomo.
The spot demonstrates how Pepsi – through "Pepsi Stuff" – brings people closer to music, merchandise and apparel.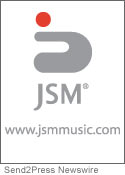 The soundtrack for "Magnetic Attraction" was a combination of a track written and produced by JSM followed by Justin Timberlake's song "Lovestoned" through advertising agency BBDO Worldwide.
JSM Music founder and President, Joel Simon, a 2007 honoree of the coveted "Crain's Business 40 Under 40," is proud of being called on by BBDO to work on this spot that aired during the world's biggest commercial showcase: "Not only is this one of the top ten spots of the 2008 Super Bowl…but according to some sources it was listed as #2."
JSM Music is the largest commercial music production company in America producing music for some of the world's best known advertisements. Joel Simon and JSM have been featured in Billboard, Crain's New York Business, Creativity, New York Post, Adweek, Advertising Age, New York Times, and countless others.
The company and its talent pool have garnered countless gold and platinum records, Grammys, Emmys and every advertising award imaginable. Their recent advertising campaigns include projects featuring Mary J. Blige, TI, Kelly Clarkson Fat Joe, LL Cool J, and Eve.
All trademarks acknowledged.