SACRAMENTO, Calif. /California Newswire/ — Today, advocates for street safety are celebrating as two landmark bills by Assemblyman Mike Gatto (D-Los Angeles), which seek to curb the epidemic of hit-and-runs in California, have passed the legislature and are headed to the Governor's desk. AB 47, which would create a "Yellow Alert" system to help catch hit-and-run offenders, passed the Assembly today by a vote of 74-2. AB 1532, which would expand hit-and-run penalties to include automatic license suspension, passed the Assembly on August 22, 2014 by a vote of 72-2.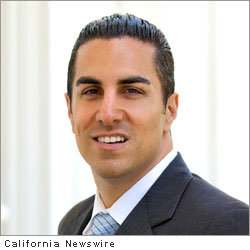 "Hit-and-run victims and their families deserve to know that cowards who drive recklessly and purposefully avoid responsibility, will be caught, and will no longer be allowed to drive the streets," said Gatto. "Together, these bills will empower the public to help us catch hit-and-run drivers before they can cover up the evidence of their crimes and ensure the perpetrators of these cowardly acts think twice before leaving fellow citizens dying on the side of the road."
AB 47, which is also known as the "Yellow Alert bill" would allow law-enforcement agencies to use the state's existing network of changeable message signs to notify the public of specific descriptions of vehicles suspected of being involved in a hit-and-run collision. Use of the system would be limited to hit-and-runs that result in death or serious bodily injury. Alerts would be issued only when there is a sufficient description of the offending vehicle and law enforcement believes the enactment of the alert would result in the apprehension of the suspect.
The legislation is modeled after a similar alert system created in Denver, Colorado in 2012. The system has resulted in an incredible 76% arrest rate when alerts are enacted. By comparison, less than half of all hit-and-run offenders are apprehended nationally, and in Los Angeles, the arrest rate for fatal hit-and-runs is only 20%. On March 25, Colorado's Governor signed legislation expanding the alert system statewide.
AB 1532 takes aim at hit-and-run offenders after they are arrested, requiring a mandatory six-month license suspension for anyone convicted of a hit-and-run involving another person. The legislation addresses a major loophole in current law that provides for few consequences for hit-and-run offenders whose victims are lucky enough to walk away with only minor injuries. The problem with current law is that it sets the penalty based upon how bad the victim's injuries end up being, and there is no way to know that at the moment of impact.
AB 47 and AB 1532 are Gatto's most recent efforts to address the high numbers of hit-and-runs across the state but they are not his only efforts. Last year, he authored AB 184, which doubled the statute of limitations to prosecute hit-and-run drivers. He has also supported local movements to raise awareness of the hit-and-run epidemic, including Finish the Ride, a charity ride created by Damian Kevitt, the survivor of a brutal hit-and-run in Gatto's district last year.
"The only way to know if you hurt someone is to stop. The only way to get someone medical attention is to stop," said Gatto. "Accidents happen, but if you flee the scene, it becomes a crime,"
Mike Gatto is the Chairman of the Appropriations Committee in the California State Assembly. He represents Burbank, Glendale, La Cañada Flintridge, La Crescenta, Montrose, and the Los Angeles neighborhoods of Atwater Village, East Hollywood, Franklin Hills, Hollywood Hills, Los Feliz, and Silver Lake. Follow him on Twitter @MikeGatto or visit www.asm.ca.gov/gatto

Editorial note: above news is based on release as provided by the office of Mr. Gatto, and is believed accurate but not guaranteed.