DALLAS, Texas — Titan Wood has announced the official opening of its Americas' headquarters office in Dallas, Texas. The company's CEO and several other top executives will be based in Dallas. "In light of demand throughout the Americas, we are pleased to be increasing our presence in the U.S.," Willy Patterson-Brown, Chairman, Titan Wood, said. "Dallas is an ideal city for our headquarters due to its central location, ease of doing business, and abundance of qualified personnel."
Wood is a material that offers endless possibilities. It's also the only naturally-renewable construction resource. Unfortunately, many woods are susceptible to deterioration and the manufacturing of typical-treated woods, wood composites, or other artificial materials, is not very environmentally friendly; there are toxicity issues and a great deal of energy is required for production.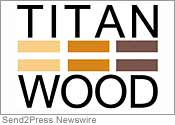 That's where Titan Wood steps in. Their wood-preservation techniques are performed in a non-toxic manner; the company's Accoya(R) product has strong "green" credentials. It's a new wood species with performance credentials that have been extensively researched and demonstrated.
A fast-growing company, Titan Wood has perfected a technique that involves taking common woods like pine, and giving them durability characteristics superior to typically used endangered tropical hard woods.
It's exceptionally easy to maintain and saves on environmental and financial costs; prices are competitive with other premier building products.
Leading applications include: use in windows, doors, siding, decking, and exterior load-bearing beams for buildings, bridges and other structures.
Manufacturers in these sectors value Accoya's dimensional stability, long coatings life, and its 50-year durability.
Currently, the company has a 14,000-square meter plant in the Netherlands that supplies the European market and also acts as its full-scale test site and temporary supply for future facilities throughout the world. Plants are currently underway in the strong construction markets of China and Dubai with licenses for several other markets under option or in discussion.
Titan Wood Limited is part of the Accsys Technologies PLC group of companies. Accsys Technologies PLC is listed on the London Stock Exchange AIM market and Euronext Amsterdam by NYSE Euronext under the symbol "AXS."
All Accoya(R) produced by Titan Wood is made using wood sourced from Forest Stewardship Council and other regionally certified, sustainably-managed sources; it's the wood of the future.
For more information, visit: http://www.TitanWood.com.