LOS ANGELES, Calif. /California Newswire/ — Renowned Japanese Ramen restaurant MENYA MUSASHI NITEN ICHIRYU is pleased to announce our Grand Opening Special Event on Friday, July 20, 2018 in Sawtelle, Los Angeles.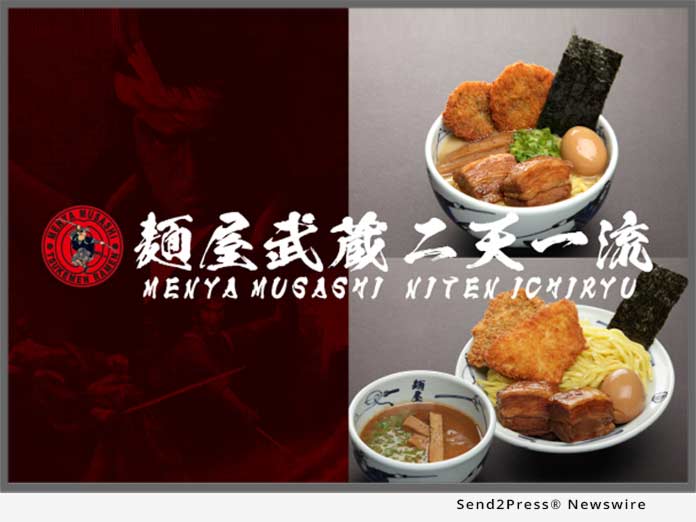 Event Details:
Ramen, or Tsukemen, is offered at a special price of $5/bowl on a first come first served basis.
Lunch Time starting at 11 a.m. (limited to 200 Bowls).
(One bowl per purchase per customer.)
Dinner Time starting at 6 p.m. (limited to 200 Bowls).
(One bowl per purchase per customer.)
To learn more about both of the MENYA MUSASHI NITEN ICHIRYU as well as our event, please visit: http://www.menyamusashi-la.us/.
The restaurant will operate under regular business hours from July 21, 2018 onwards.
Restaurant Information:
Restaurant Name: MENYA MUSASHI NITEN ICHIRYU
Address: 2012 Sawtelle Blvd., Los Angeles, CA 90025
Phone: (310) 231-7188
Grand Opening: July 21, 2018.
Regular Business Hours:
MON-FRI: 11:30 a.m. – 3 p.m.; 5:30 p.m. – 10 p.m.
SAT and SUN: 11:30 a.m. – 10 p.m.
Website: http://www.menyamusashi-la.us/
Fecebook: Menya Musashi La – https://www.facebook.com/menyamusashila/
Instagram: menyamusashila
About MENYA MUSASHI:
MENYA MUSASHI was founded by Takeshi Yamada in 1996. Similar to the world-renowned sword master Musashi Miyamoto who proclaimed. "I practice many arts and abilities – all things with no teacher," founder Mr. Yamada taught himself the art of making Ramen and established this Ramen restaurant.
In respect of Musashi Miyamoto who created the unique two-sword style on his own, Mr. Yamada named his Ramen restaurant "MENYA MUSASHI."
MENYA MUSASHI currently has 14 restaurants in Japan, with overseas locations in Singapore, Taiwan, China, Malaysia, Indonesia and Ukraine.
About NITEN ICHIRYU:
NITEN ICHIRYU is a style of classical Japanese swordsmanship conceived by Musashi Miyamoto during his later years, where a longer sword in the right hand and a shorter sword in the left hand are both used.
About NITEN ICHIRYU from MENYA MUSASHI:
The main menu of MENYA MUSASHI NITEN ICHIRYU follows the concept of "two-sword style," featuring two categories of Japanese food, Noodles (Ramen or Tsukemen) and Tonkatsu.
For each bowl of NITEN ICHIRYU Tsukemen and NITEN ICHIRYU Ramen, the noodles are topped with 2 large pieces of braised pork belly and Tonkatsu to create a feast in one bowl.
The noodle soup is a combination of both pork bone broth and seafood. Customers can choose from a regular soup or an extra rich soup for Tsukemen.
Vegetable Ramen will also be available after the official grand opening.
News Source: Menya Musashi Niten Ichiryu
Related link: http://www.menyamusashi-la.us/