Telovations and Tech Data U.S. Partner to Deliver Managed Voice Services
TAMPA, Fla. — Telovations Inc. and Tech Data Corporation (Nasdaq GS: TECD) today announced a strategic partnership designed to extend Telovations' Managed Voice Services to select Tech Data resellers in 16 U.S. markets. Tech Data will offer its resellers the ability to promote Telovations' Managed Voice Services to their customer base.
Telovations provides small and medium-sized businesses with cost-effective hosted communications solutions. The company delivers all its Managed Voice Services and more than 20 productivity-improving applications over the Telovations Real-Time Network(TM). Services are sold in bundles of features, applications and all the necessary hardware in cost-effective monthly plans. This outsourced model eliminates the need for costly capital expenditures, provides significant cost savings, simplifies management, increases productivity and introduces new ways to collaborate.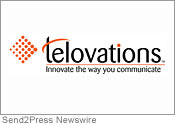 Under the terms of this strategic alliance, Tech Data and Telovations will jointly market hosted communications services to business customers in 16 U.S. cities through a select group of Tech Data business partners. Telovations will benefit from Tech Data's broad marketing capabilities; Tech Data will expand its communications offerings to include hosted voice services; and Tech Data customers will have a new way to grow their business, by offering outsourced managed voice services.
"Business customers are rapidly moving to outsource their IP communications services so they can focus on growing their business, not on managing complex and costly telephone services and equipment," said Rick Schonbrun, president & CEO of Telovations. "This strategic alliance with Tech Data provides Telovations with a way to expand our access to new customers and provide business partners with an easy means to benefit from the transformation to hosted communications services."
"To help networking VARs leverage new revenue opportunities, Tech Data is expanding its communications portfolio to now include Hosted IP Voice Services from Telovations," said Chuck Bartlett, Tech Data vice president, Networking Product Marketing. "The movement toward managed services is happening quickly, and many of our resellers are looking to provide a reliable, high-quality and feature-rich set of managed voice services. Tech Data is pleased to address this emerging trend through our alliance with Telovations."
Business Partners Enjoy a Variety of Benefits Selling Telovations Services:
* Monthly recurring revenue that continues to grow month after month with the addition of new customers
* Opportunity to earn installation revenue
* Ability to offer hosted IP communications services without the cost and expertise normally associated with getting started
* Opportunity to use Telovations' features and applications FREE for up to three months
Today's announcement extends to Tech Data's resellers three distinct offers that enable their customers to take full advantage of next-generation IP communications without the up-front capital expense:
* Innovate for Business Service – Enhanced toll-quality business telephone service designed for growing businesses and branch locations of larger enterprises. Includes 16 advanced features and next-generation "mobility" functions linking your office and mobile telephones. Innovate for Business service is reliably delivered over the Telovations all-IP Cisco Powered Network.
* Innovate PBX Pack – As an overlay to Innovate for Business service, this software-based application IP enables a customer's existing telephone system, adding productivity-improving features including unified messaging and integration with Microsoft Outlook and Internet Explorer.
* Innovate IP Phone Pack – Combined with Innovate for Business service, the Innovate IP Phone Pack option replaces a customer's existing telephone system with a Complete Hosted Communications Solution, using state-of-the-art Cisco IP Phones, offering the ultimate combination of features, functionality and mobility.
For More Information
Resellers interested in learning more about Telovations Managed Voice Services are encouraged to visit the Telovations Partner site at www.telovations.com/partners. For immediate assistance, resellers should contact Mark Falk at 813-319-2473 or mfalk@telovations.com.
About Tech Data
Founded in 1974, Tech Data Corporation (NASDAQ GS: TECD) is a leading distributor of IT products, with more than 90,000 customers in over 100 countries. The company's business model enables technology solution providers, manufacturers and publishers to cost-effectively sell to and support end users ranging from small-to-midsize businesses (SMB) to large enterprises. Ranked 109th on the FORTUNE 500(R), Tech Data generated $21.4 billion in sales for its fiscal year ended January 31, 2007. For more information, visit http://www.techdata.com.
About Telovations
Based in Tampa, Fla., Telovations provides growing businesses with a hosted, managed IP communications solution, including telephone equipment; telephone service; and a high-speed T-1 connection to the Telovations private, secure and fully managed Cisco Powered RealTime Network(SM). Telovations' Innovate service also includes more than 20 innovative features and applications, professional support and systems management for one low monthly fee.
For additional information about Telovations and the Innovate managed communications solution, visit http://www.telovations.com or call 1-877-We-Innovate (1-877-934-6668).