FREMONT, Calif. — TeamF1, Inc., a leader in embedded networking and security software, today announced that its Managed Access Point Solution (MAPS) — a complete turnkey software package for advanced and secure enterprise-class wireless access points — is the first software solution available on Applied Micro Circuits Corp.'s (AMCC) (NASDAQ:AMCC) newly released PowerPC 405EX-600MHz "Makalu" network appliance reference hardware design platform. The combined hardware/software solution lowers risk for networking OEMs and ODMs and minimizes time-to-market for their products.
MAPS on the Makalu reference platform addresses the challenge faced by OEMs in bringing their next generation wireless devices to market. Combining a production-ready reference hardware design platform for an enterprise 802.11n access point based on AMCC's award-winning PowerPC 405EX processor with pre-integrated MAPS software from TeamF1 provides a complete reference solution that can be used to go from marketing specification to manufacturing in a very short time.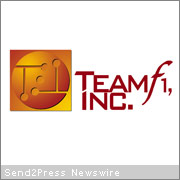 This reference solution utilizes TeamF1's highly customizable, feature-rich MAPS software package that supports the latest 802.11 wireless standards with field-proven networking and security components. MAPS is especially suited for high-performance wireless applications that need advanced management capabilities to meet demanding business-class performance requirements and security features. Additionally, it can leverage other field-proven components and a state-of-the-art management framework shared with other TeamF1 SMBware(TM) solutions.
TeamF1 will demonstrate MAPS on the Makalu platform in Suite 2448 of the Grand Hyatt Taipei Hotel at Computex 2008 in Taiwan, June 3-7, 2008, where more details on MAPS and Makalu will be available.
Also being demonstrated at the show is TeamF1's Secure Gateway Solution (SGS), a powerful turnkey software solution for SMB security devices such as wired and wireless VPN/Firewall devices. The solution is available for various AMCC Power Architecture processors and is being showcased on the AMCC PowerPC 440EPx processor Sequoia Evaluation Kit from AMCC.
"Our mutual customers will greatly benefit from the differentiated applications enabled with our SMBware MAPS and SGS solutions pre-integrated with the capabilities of AMCC's state-of-the-art processors," said Mukesh Lulla, president of TeamF1. "We are very excited to share with our customers attending Computex, the modular approach behind these production-ready solutions, and the comprehensive software features that we have made available in a customizable package to meet specific market requirements."
"We are pleased that TeamF1 is providing their MAPS software as part of our Enterprise 802.11n Access Point reference design based on the award-winning PowerPC 405EX processor," said Charlie Ashton, director of software at AMCC. "AMCC's Makalu network appliance reference hardware design platform together with TeamF1's proven MAPS software makes an ideal solution for enterprise WLAN access points. We expect many customers to adopt the PowerPC 405EX running MAPS software as a way to minimize risk and accelerate time-to-market for their products."
The two companies previously announced their commitment to jointly develop highly integrated, advanced networking and security platforms for OEMs and ODMs in the Wi-Fi(R) and VPN application space. Their partnership focuses on demonstrating advanced hardware architectures and optimized software components and solutions designed to leverage specialized hardware resources.
Availability
The complete AMCC Makalu design package in a production-ready form is available to customers immediately from AMCC to use as a baseline starting point for their own product design. The MAPS and SGS software packages are available for immediate licensing on AMCC platforms directly from TeamF1.
About TeamF1
TeamF1, Inc. a privately held corporation headquartered in Fremont, California, is a leader in high performance embedded networking and security software. TeamF1's products enable secure networking of telecom/datacom and industrial equipment, and provide the infrastructure components needed for switching and wireless products in various market segments. For more information visit the company's website at http://www.TeamF1.com or contact TeamF1 Public Relations at 510/505-9931 or email pr _at_ TeamF1.com.
About AMCC
AMCC provides leadership semiconductor solutions to process, transport, and store digital information for the world's wired and wireless networks. As a leading supplier of Power Architecture(TM) based processors and with world-class expertise in SONET and Ethernet protocol processing, PHY technology, Storage processors and RAID controllers our products are the foundation of the IP Communications Revolution. AMCC's 3ware(R) SAS and SATA RAID controllers deliver cost-effective, high-performance, high-capacity storage for enterprises and consumers worldwide in applications like disk-to-disk backup, near-line storage, network-attached storage (NAS), video, and high-performance computing. For further information regarding AMCC, please visit our website at http://www.amcc.com.
[tags]Applied Micro Circuits Corp, TeamF1 Inc, AMCC Makalu design package, NASDAQ AMCC, Mukesh Lulla, MAPS software[/tags]