Certification Demonstrates TeamF1's Continuing Commitment to Standards for Next-Generation Devices
FREMONT, Calif. — TeamF1, Inc. (www.TeamF1.com), the leader in embedded connectivity and security, today announced that NetF1 – its high performance, feature-rich embedded TCP/IP stack implementation and virtual routing framework – has passed the IPv6 Ready Logo Program's first stage of certification and has received the IPv6 Ready Logo. This key certification validates the product's support for IPv6 mandatory core protocols and interoperability with other IPv6 implementations.
TeamF1's NetF1 product is an embedded multi-threaded TCP/IP stack implementation designed to add high-performance networking to constrained embedded devices. With IPv4 addresses in short supply, there is an accelerating move to adopt IPv6 in embedded applications. IPv6 also has other important advantages, including built-in security and QoS management, and easier auto-configuration. NetF1 specifically addresses this need by providing an easy and flexible way for embedded devices to leverage its robust, fast and standards-based IPv6 implementation.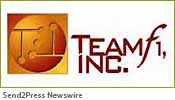 "We are very pleased with this most recent certification," said Vinai Kolli, TeamF1's Vice-President of Technology Development. "NetF1's certified interoperability with other standards-based IPv6 implementations significantly reduces deployment risk for our customers. They can be confident that their networking applications are standards-conformant and interoperable with a wide variety of devices in a heterogeneous network."
The IPv6 Ready Logo Program is a global qualification program defined by the IPv6 Forum that ensures products can connect with networks that use the new IPv6 addressing architectures. To obtain the logo, NetF1 was proven to fulfill and satisfy all the test items specified in the Phase 1 test specification including conformance and interoperability tests.
About NetF1
NetF1 is a high performance, feature rich and hardware-acceleration capable embedded TCP/IP stack implementation with an included virtual routing framework. It includes a complete implementation of multi-instance capable TCP, UDP, IP, IPv6, ICMP, and IGMP designed specifically for use in low-resource embedded environments. NetF1 also includes the ability to optionally create highly multi-threaded multiple isolated and managed virtual routers in a single physical system thereby lending itself to use in embedded environments that need to separate out network backplane communication, or in ISP equipment that needs to support multiple routing protocols for multiple customers.
For more product details, please go to http://www.TeamF1.com/NetF1.htm. NetF1 version 1.1.x is immediately available for licensing directly from TeamF1 and through its channel partners.
About TeamF1
TeamF1, Inc. a privately held corporation headquartered in Fremont, CA, is a leader in high performance embedded networking and security software. TeamF1's products enable secure management of telecom/datacom and industrial equipment, and provide the infrastructure components needed for switching and wireless products in various market segments.
For more information visit the company's website at http://www.TeamF1.com or contact TeamF1 Public Relations at 510-505-9931.
[tags]TeamF1 security software, NetF1 virtual routing framework, IPv6 Ready Logo Program, Fremont California news[/tags]