Home
Tags
Health and safety
Tag: health and safety News
LOS ANGELES, Calif. /California Newswire/ -- Uvilite has developed a safe and powerfully effective ultraviolet sterilizing light technology for everyday residential use. Ideal for homes, cars and any other areas where germs are present, Uvilite uses hospital-grade technology that protects and empowers people to fight germs when and where they want to.
PHILADELPHIA, Pa., Sept. 2, 2020 (SEND2PRESS NEWSWIRE) -- In response to worldwide demand, FreeStylus has launched a first of its kind patent-pending 100% recyclable, single-use stylus designed to eliminate direct human contact with public technology surfaces.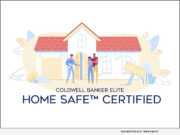 FREDERICKSBURG, Va., Sept. 1, 2020 (SEND2PRESS NEWSWIRE) -- Buying or selling a home is not easy, even in the best of times, but it's especially difficult during a global pandemic. In order to mitigate the myriad of risks that come with viewing homes, meeting with clients and in-person closings, Coldwell Banker Elite has launched Home Safe Certification.
FULLERTON, Calif. /California Newswire/ -- Solving the problem of screening for elevated temperatures, without the close contact of a walk-up thermometer to the forehead, desperately needed a safer, more socially distant option. Introducing the Disinpro ThermoDispenser.
LINDON, Utah, July 15, 2020 (SEND2PRESS NEWSWIRE) -- PhoneSoap welcomes the arrival of Jared Elliott as Director of Global Sales. After nearly 20 years in successful sales roles, most recently as Health System Director for Cepheid, a molecular diagnostic company, Mr. Elliott joins the PhoneSoap team bringing a vast amount of experience and knowledge.
LAKE ORION, Mich., July 9, 2020 (SEND2PRESS NEWSWIRE) -- As Michigan envisions a day soon when coming out of the COVID-19 crisis means seeking normal in a climate that is anything but, there will be a number of services and businesses in very high demand. But the crisis has thrust to the forefront some companies, like Turner Sanitation, whose role in our communities have been enhanced by the needs we'll have in Michigan's new normal.
SAN FRANCISCO, Calif. /California Newswire/ -- EPIC Insurance Brokers and Consultants, a retail property and casualty insurance brokerage and employee benefits consultant, today announced that Senior Risk Control Consultant Chuck Simpson will present at the Sulphur World Symposium 2016 being held at the Four Seasons Hotel Vancouver in Vancouver, Canada on April 11 to April 13. Simpson is a member of EPIC's National Energy Construction Practice.
SACRAMENTO, Calif. /California Newswire/ -- Given the prolonged and continuing duration of the Aliso Canyon gas leak and at the request of residents and...