Home
Tags
Business intelligence
Tag: business intelligence News
MACON, Ga., Sept. 23, 2019 (SEND2PRESS NEWSWIRE) -- LBA Ware, a leading provider of incentive compensation management (ICM) and performance management software and solutions for the mortgage industry, will debut LimeGear, a turnkey business intelligence (BI) platform at Source Media's Digital Mortgage Conference on Tuesday, September 24, live from the event's main stage during demo session #4, which begins at 8:55 a.m.
NEW YORK, N.Y., March 14, 2018 (SEND2PRESS NEWSWIRE) -- Platinum group metals (PGMs), namely, platinum, palladium, rhodium, iridium, ruthenium and osmium, are undergoing a period of market flux and in some cases, steep and rising prices, according to a new report published by Thintri, Inc.
AVON, Conn., March 12, 2018 (SEND2PRESS NEWSWIRE) -- Paragon Insurance Holdings, LLC ('Paragon'), a national multi-line specialty MGA, has selected LeapFrogBI, LLC, an agile business intelligence provider, and Sisense, Inc., to develop an advanced data warehouse and enable enhanced reporting capabilities.
PASADENA, Calif. /California Newswire/ -- BJD Inc., a privately held men's sportswear manufacturer, established in 1985, located in Los Angeles and New York, has selected DrivenBI's SRK to help transform their Sales Cycle Analysis. BJD Inc. owns several different brands, their most distinguished being Michael Brandon, Thread and Cloth, James Tattersall, and Park West. BJD Inc. distributes to retail giants such as Burlington, Marmaxx Group, Ross, Steinmart, and many more.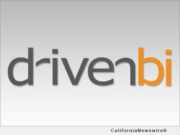 PASADENA, Calif., /California Newswire/ -- DrivenBI, a provider of cloud analytics platforms, today announced a partnership with dinCloud, a leading cloud services provider, that will allow dinCloud to provide their customers with DrivenBI's cloud analytics platform designed to unify, analyze, and report data aggregated from multiple sources.
PASADENA, Calif. /California Newswire/ -- DrivenBI and Return on Efficiency today announced their partnership, empowering customers to achieve operational insights in entirely new ways. SRK simply replaces spreadsheets for analysis, delivering self-service capability for reporting and Operational Dashboards demanded by the insurance industry.