LOS ANGELES, Calif. /California Newswire/ — The Tack Artist Group – a premier artist management, production, and branding agency – will be holding its inaugural TACKTalks conference in Los Angeles, Calif. on September 7, 2016. Designed for beauty industry artists looking to cultivate their personal brands into viable businesses, the exclusive event will offer up to 300 attendees an unprecedented opportunity to learn from and network with a panel of the industry's top beauty influencers, insiders, and success stories.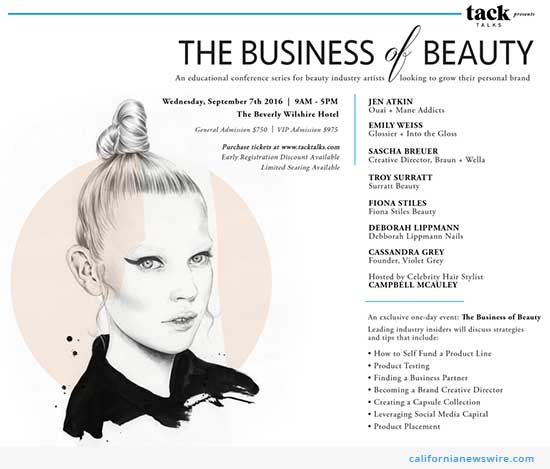 The panelists – who have a combined social media following of more than seven million – will guide artists in the creation and development of their brand and marketing strategy, as well as share essential insider insights such as how to self-fund a product line, strategies for leveraging social media capital, and tips for finding a business partner.
The guest line up will include:
Jen Atkin: Described by The New York Times as "the most influential hairstylist in the world," celebrity hairstylist Jen Atkin is the founder of OUAI Haircare and creator of the wildly successful digital magazine com. Instagram followers: 1.5M.
Emily Weiss: Long-time beauty enthusiast, Emily Weiss, spotted a gap in the fashion media market for beauty product coverage, which lead to her starting the popular beauty blog, Into The Gloss. In a short amount of time, Weiss has turned her blog into a fully-fledged business, in addition to creating her own beauty line, Glossier. Instagram followers: 173K.
Sascha Breuer: Creative Director of the prodigious European haircare brands Braun and Wella, Sascha Breuer is a consultant to multiple top global beauty brands and one of the most sought-after celebrity hairdressers in the world, with a client list that includes Anne Hathaway, Keira Knightley, Shailene Woodley, and Naomi Campbell. Instagram followers: 11.3K.
Cassandra Grey: With more than 15 years of experience in fashion and luxury brand development, Cassandra Grey founded VioletGrey in 2013 – an expertly curated e-commerce beauty site and flagship boutique on Melrose Place. Instagram followers: 29.6K.
Deborah Lippmann: Nail polish pioneer and go-to manicurist for the most fashionable magazines and fashion houses in the world, Deborah Lippmann's own line of high-quality nail lacquers and treatments has celebrated explosive growth in the U.S. and abroad, with new markets in the past few years including the UK, France, Germany, and Asia. Instagram followers: 79.5K.
Fiona Stiles: An Emmy nominated make-up artist and regular insider for A-listers such as Jennifer Garner, Gwyneth Paltrow, Natalie Portman, and Gabrielle Union, Fiona Stiles has also created flawless faces for top-tier brands including Victoria's Secret, Calvin Klein, Ralph Lauren, Revlon, and Tommy Hilfiger. Instagram followers: 26.7K.
Troy Surratt: Renowned celebrity makeup artist and founder of Surratt Beauty, Troy Surratt served as the Global Consulting Makeup Artist for Maybelline New York, was an original spokesperson for Beauty.com, and helped launch Tarte Cosmetics, one of the first boutique color cosmetics lines. Instagram followers: 16.7K.
Hosted by celebrity hairstylist Campbell McAuley, the all-day event will include breakfast, lunch, afternoon tea and champagne, as well as premium gift bags for all attendees.
WHEN: September 7, 2016
WHERE: Four Seasons Beverly-Wilshire
9500 Wilshire Blvd, Los Angeles CA 90212
TICKET INFORMATION: www.tacktalks.com
ABOUT TACK ARTIST GROUP:
Launched in July 2015, TACK Artist Group is a premier artist management, production, and branding agency that specializes in the representation of a wide range of artists, including photographers, film directors, hair stylists, makeup artists, manicurists, and wardrobe stylists. Clients include many top celebrities, fashion brands, lifestyle brands, editorial magazines, advertising, film, and emerging arenas.
Social Media:
·         https://www.instagram.com/tacktalks/·         @TACKtalks
MEDIA CONTACTS:
MEREDITH CAMMAKER
DOROTHY LYSEK
TRACTENBERG & CO.
212.929.7979
* Editorial Note: Text based on press release as provided by the news source. This content was not created by CaliforniaNewswire.com