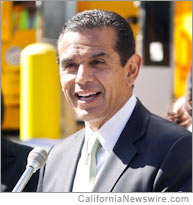 LOS ANGELES, Calif. /California Newswire/ — Mayor Antonio Villaraigosa and Council President Eric Garcetti issued the following statements today on the ratification of the pension and healthcare agreement by a majority of employees represented by the Coalition of LA City Unions:
Statement from Mayor Villaraigosa:
"States and cities across the country are grappling with burgeoning budget deficits and struggling to find solutions. Stalemate often stands in the way of resolution and core services are often cut without considering the long-term impact.
Here in Los Angeles, we have a different story to tell. Workers and city leaders have come together to negotiate a structural solution. Our compromise protects core services while saving hundreds of millions of taxpayer dollars. It provides workers with the economic stability of a guaranteed paycheck protected from furloughs, as well as the peace of mind that comes with health care they can count on when they retire.
I appreciate the willingness of our City employees to work with us to find long-term solutions and put posturing aside for the good of the people and the City of Los Angeles."
Statement from Council President Garcetti:
"The City and the Coalition put politics aside and focused on problem solving to achieve structural reform, lower budget costs and increased service delivery from thousands of workers. As for the rest, we are moving forward immediately with furloughs and a retiree benefits freeze. We created clear alternatives to ensure the budget is balanced under any scenario and those plans are now being implemented."