Social application software firm supports standards movement for innovative social web
LOS ANGELES, Calif. — Social Platform LLC, a leading white label social networking software provider announced today its support of the Open Social initiative spearheaded by Google. Open Social fosters a collaborative development community through a set of common APIs for building social applications across the web.
Social Platform has continuously supported an Open Social philosophy in the development of its own software platform powered by Social Platform Enterprise. Participation in Open Social by such entities as SalesForce.com, Plaxo and LinkedIn now allow Social Platform's corporate clients to leverage data their members and employees have compiled but were previously locked away in these closed systems.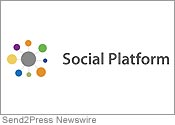 Social Platform Enterprise is able to embrace the Open Social initiative, greatly expanding its already renowned reputation for ease of integration with such services as Flickr, YouTube, Facebook, Yahoo!, Google and others. By including Open Social in its repertoire, Social Platform clients win even more access to their data, widgets and external networks.
Following on the heels of their release of Social Platform Enterprise 2.0 this week, Social Platform continues to build momentum in the marketplace for platforms instead of information silos. "This is another step in the direction of wide scale Social Network integration," commented Eric Schlissel, Social Platform founder and CEO.
"Many of our clients have asked for such functionality and prior to today this has been a challenge. It's time for platforms to open themselves and play nicely for the sake of Internet users worldwide."
About Social Platform, LLC
Social Platform creates and integrates software to transform web experiences into social applications. Tying together all the necessary technologies through an extensible hosted infrastructure, Social Platform enables clients to create organic online communities and applications with ease of implementation. The Social Platform Enterprise suite helps build brands for companies and the things they are passionate about.
For more information, visit http://socialplatform.com/ .
All trademarks acknowledged.
[tags]Social Platform LLC, white label social networking software provider, Open Social initiative, CEO Eric Schlissel[/tags]