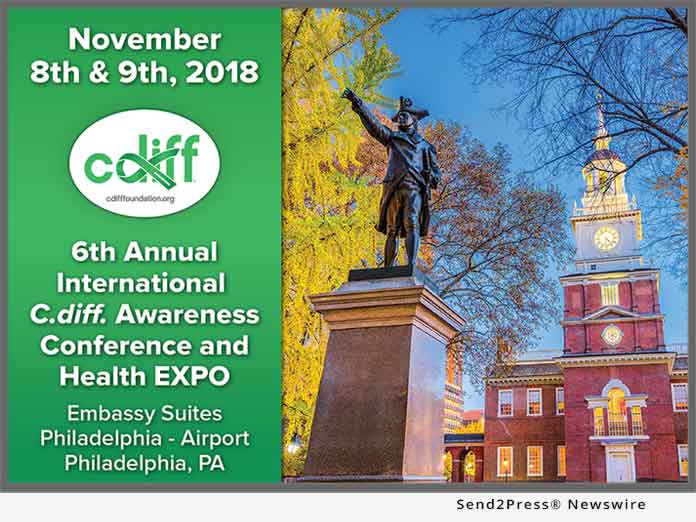 PHILADELPHIA, Pa., Jun 11, 2018 (SEND2PRESS NEWSWIRE) — The C Diff Foundation is honored to welcome 20+ leading topic experts joined by Dale Gerding, MD, FACP, FIDSA, Professor of Medicine at Loyola University Chicago Stritch School of Medicine in Maywood, Illinois and Research Physician at the Edward Hines Jr. VA Hospital and Mark Wilcox,B Med Sci, BM, BS, MD, FRCPath-, Head of Microbiology and Academic Lead of Pathology at the Leeds Teaching Hospitals (LTHT), Professor of Medical Microbiology at the University of Leeds, and Lead on Clostridium difficile for Public Health England (PHE).
Dale Gerding, MD, FACP, FIDSA and Mark Wilcox, B Med Sci, BM, BS, MD, FRCPath- will be this year's Conference Chairs of the upcoming 6th Annual International "C.diff. Awareness Conference and Health EXPO," taking place on November 8 and 9, 2018 at the Embassy Suites by Hilton Philadelphia Airport – Philadelphia, Pennsylvania.
Dale Gerding, MD, FACP, FIDSA and Mark Wilcox,B Med Sci, BM, BS, MD, FRCPath- join the internationally recognized experts in health care, academic, and industry leaders to discuss the burden of Clostridium difficile infections (C.difficile, C.diff., CDI) Prevention, Treatments, Diagnostics, Research, Clinical Trials, with Microbiome Research, Infection Prevention, Sepsis Prevention, Environmental Safety, Fecal Microbiota Restoration, Antibiotic Stewardship, Scientific Poster Presentations and more.
To learn more about this extraordinary conference, agenda and guest speakers: https://cdifffoundation.org/2018-guest-speakers/
According to the Centers for Disease Control and Prevention (CDC), Clostridium difficile infection (C. difficile) "has become the most common microbial cause of healthcare-associated infections in U.S. hospitals and costs up to $4.8 billion each year in excess health care costs for acute care facilities alone." Statistics provided by the CDC suggest that C. difficile cause nearly 500,000 infections in patients in the U.S. annually. In one study noted by the CDC, among infected patients, nearly 29,000 died within 30 days of being diagnosed, and more than half of those deaths (15,000) were directly attributable to a C. difficile infection.
All attendees will have the highest levels of peer networking and learning opportunity at the International C.diff. Awareness Conference and Health EXPO. The conference program builds in time for face-to-face interaction between attending executives, corporate representatives and industry experts exhibiting in the health expo.
Attendee Barley Chironda, Infection Control Specialist, said about the 2017 conference, "I have attended all of the C Diff Foundation Conferences and I am always in awe at the wealth of new information that is presented at each conference. As an Infection Control Specialist, and a person who deals with Healthcare Infections, I feel this conference allows great knowledge sharing and networking."
With upmost appreciation we thank the following Exhibiting Sponsors for their continued support and partnering with the C Diff Foundation in promoting C. diff. Awareness worldwide:
– Diamond: Synthetic Biologics.
– Gold: Clorox Healthcare, Seres Therapeutics, ROCHE, Rebiotix, Pfizer.
– Silver: Mr. & Mrs. Angelo Ortiz.
– Bronze: Honey Bee Handiworks, Trinity Guardion, Steriliz, Safety Net America, SporeGen.
This conference is supported through an educational grant from Sanofi Pasteur US.
Visit https://cdifffoundation.org for more information. Contact Angelo Ortiz for registration, exhibiting/sponsor opportunities, and media partnerships: angelo.ortiz@cdifffoundation.org or Mobile (919) 201-1512.
About The C Diff Foundation:
The C Diff Foundation, a 501(c)(3) established 2012, comprised of 100% volunteering professionals dedicated at supporting public health through education and advocating for C. difficile infection (CDI) prevention, treatments, environmental safety, and support worldwide. Listen to "C.diff. Spores and More" Tuesday's at 1 p.m. ET (www.cdiffradio.com), sponsored by Clorox Healthcare, providing leading up-to-date information on topics that are in align with their mission.
Follow C Diff Foundation on LinkedIn, Facebook, and Instagram. Twitter @cdiffFoundation #Cdiff2018
News Source: C Diff Foundation
Related link: https://cdifffoundation.org/
This press release was issued on behalf of the news source, who is solely responsible for its accuracy, by Send2Press Newswire. To view the original story, visit: https://www.send2press.com/wire/6th-annual-international-c-diff-conference-and-health-expo-in-philadelphia-pa-november-8-9/