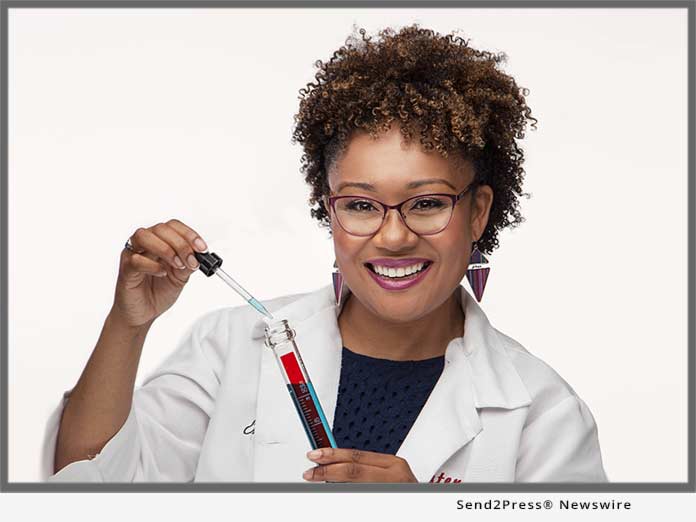 CHICAGO, Ill., Mar 26, 2019 (SEND2PRESS NEWSWIRE) — Erica Douglas aka Sister Scientist is a true STEM advocate. This powerhouse cosmetic chemist is changing the perception of the careers chemical engineering might lead you to. As a formulating, cosmetic chemist in the multicultural beauty space for over a decade, Erica has been the "brains" behind a number of popular products on the market.
Erica earned her Bachelor of Science degree in Chemical Engineering from Stanford University. She then advanced to Northwestern University as a National Institute of Health Research Fellow where she conducted research in Biochemistry and Molecular and Cell Biology.
However, her personal horror stories as a child who experienced hair and skin issues are what motivated her to dedicate her scientific career to developing innovative and quality products in beauty and personal grooming space. Ascending the ranks in a male dominated laboratory to the position of Director of Research & Development before the age of 30 for one of the category's most successful brands, Organic Root Stimulator, Erica's long-term impact and positive influence on natural hair and skin care is undeniable.
After becoming frustrated with hearing the perpetual inaccuracies regarding ingredients and product claims, Erica started engaging with consumers as Sister Scientist to debunk myths and set the story straight by educating the masses on the science behind beauty. Using her expertise, experience and outgoing personality, Sister Scientist has become a fun and creative platform for consumers seeking a trusted source for scientific/technical information about their beauty and grooming products.
Erica also uses this medium to motivate and encourage young women to pursue careers in STEM (Science, Technology, Engineering and Mathematics) related fields by exposing them to the fun side of science.
Over time, Erica started to recognize that building successful brands only relied partially on developing quality products, and wanted to see more women and minority owned companies building long-term wealth in the space. Her desire to understand the full scope of building successful brands in consumer goods was the catalyst for her to return to academia, earning an MBA from Northwestern University's Kellogg School of Management, with concentrations in Marketing Management, Business Strategy and Entrepreneurship & Innovation.
In 2014, she founded mSEED group – a product development, manufacturing and brand development company focused on providing strategic growth solutions to aspiring entrepreneurs and established businesses in beauty and personal care. As Chief Executive Officer, Erica manages a 7-figure business and is spearheading mSEED's corporate mission to grow a new generation of successful entrepreneurs, and drive innovation and creativity in the beauty space. Furthermore, proving that "Science Never Looked This Good."
We invite you to learn more, book, feature or collaborate with Sister Scientist today.
For more information about Sister Scientist visit: https://www.sisterscientist.com/ — or follow her on instagram (@sisterscientist) and Facebook at: https://www.facebook.com/sisterscientist.
News Source: Sister Scientist
Related link: https://www.sisterscientist.com/
This press release was issued on behalf of the news source, who is solely responsible for its accuracy, by Send2Press Newswire. To view the original story, visit: https://www.send2press.com/wire/sister-scientist-proves-that-science-never-looked-this-good-by-leveraging-her-stem-background-to-build-a-cosmetic-science-career/