SAN FRANCISCO, Calif. /California Newswire/ — On Friday, S.F. Mayor Edwin M. Lee delivered his 2014 "State of the City Address" at the construction site of Lennar Urban's The Shipyard under construction in the Bayview Hunters Point neighborhood. Joined by civic, labor, business and community leaders, Mayor Lee outlined his bold agenda for San Francisco's continuing recovery and success with investments in jobs, housing, transportation and education in his second State of the City Address.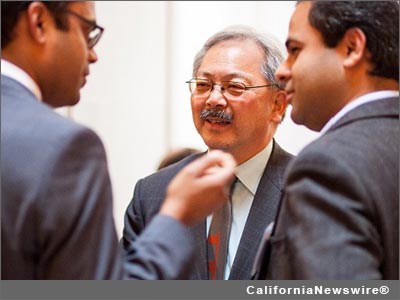 "The State of our great City is still vital and strong – as strong, financially and economically as we have ever been in our history – and this same robust economic recovery and renewed confidence in our future provides us with the resources and resolve to move forward with an 'affordability agenda' as our priority for the days ahead," said Mayor Lee. "We remain focused on creating jobs, building housing, improving our transportation system, and making sure our youth have a world class education. We will continue to ensure that San Francisco remains a place where people from every background can call home."
Mayor Lee's State of the City included:
• San Francisco was the nation's number one large county for job growth, adding jobs in every sector, from technology to health care to construction to manufacturing.
• Unemployment rate stands at just 5.2 percent, down from 9.5 percent when Mayor Lee first took office.
• Since 2011, 42,452 jobs were created.
• San Francisco will continue supporting small businesses with a new ADA Assistance Program, revolving loan programs, Jobs Squad and our new online small business portal.
• San Francisco will continue to connect residents by bringing free Wi-Fi to several Invest in Neighborhoods commercial corridors.
• Placing a ballot measure before the voters to raise the minimum wage in San Francisco beyond the current $10.74 per hour.
• Expand the Summer Jobs Plus initiative, which provided more than 6,800 summer job opportunities in the public and private sector, with more than half of the youth placed from disconnected neighborhoods like the Bayview and Western Addition.
• Continue supporting City's thriving nonprofit organizations and workers.
• Working to saving City College, Mayor Lee will ask the State of California to guarantee continued stable funding for City College, in spite of recent enrollment dips, and call upon the Accreditation Commission to lift the threat of revoking accreditation immediately.
• Remarkable public safety results since the launching the IPO Strategy – Interrupt, Predict and Organize – two years ago. Homicides are down 30 percent from last year, among the lowest in 40 years, with shootings half of what they were 10 years ago.
• Hire and train more first responders, from 911 dispatch operators to firefighters to police officers.
• As part of the Ten-Year Capital Plan, in June, Mayor Lee will ask voters to support a $400 million Earthquake Safety Emergency Response General Obligation Bond, to fund critical seismic improvements to fire and police stations, emergency firefighting water system and other core assets that first responders will rely on to save lives and property, all without raising property taxes.
• Implementing San Francisco's version of "Laura's Law" to help the homeless and mentally ill that expand and make permanent this kind of strong Public Guardianship program. Mayor Lee will ask the Board of Supervisors to adopt a required resolution allowing our City to fully move forward with Laura's Law, and work with the Superior Courts to educate judges about the positive benefits of this program. Mayor Lee will work with other Mayors and a statewide coalition to propose changes to state law in Sacramento that will boost our local ability to implement a public guardian program that works.
MAYOR LEE'S 7-POINT HOUSING PLAN
To address the City's housing shortage, and the pent-up demand and price escalation that have resulted from it, Mayor Lee will set forth the following housing goals for 2020:
• Construction of 30,000 new and rehabilitated homes throughout the City.
• At least one-third of those permanently affordable to low (<80% of median income, which is $77,700 for a family of 4) and moderate income (<120% of median income, which is $116,500 for a family of 4) families.
• The majority of those within financial reach of working, middle income San Franciscans (up to 150% of median income, which is $145,650 for a family of 4).
In his State of the City Address, Mayor Lee outlined a seven point plan to guide the City towards achievement of these ambitious targets. The basic tenets of this plan are to:
1. Protect our residents from eviction and displacement, including Ellis Act reform.
2. Stabilize and protect at-risk rent-controlled units, through rehabilitation loans and a new program to permanently stabilize rent conditions in at-risk units.
3. Revitalize and rebuild public housing, by continuing HOPE SF commitments and improving thousands of other Housing Authority units.
4. Double the downpayment loan programs, which helps recipients address the upfront hurdles of becoming a homeowner, and create more middle income homeownership opportunities, particularly on land under public control.
5. Build more affordable housing, faster, which will require more funding, but also new tools that spread the burden of its construction from the City to our private partners.
6. Continue to build market rate units, especially rental units, to address the demand crisis that has built up form years of not enough housing.
7. Make construction of new housing easier – both in City departments, with more staff and less process; and in the neighborhoods, by giving those neighborhoods the infrastructure they need to thrive with growth.
The Mayor will ask housing leaders, developers, advocates and property owners to participate in a Task Force which will examine potential solutions under these tenets, develop a plan for their execution, and form a coalition around their implementation.
Proposals that result from this effort are likely to span:
• Process reforms to facilitate efficiencies in the permitting process as well as within City departments.
• New and expanded City initiatives, such as an expanded downpayment assistance program, and a robust development program for public sites.
• New legislation, land use and legislative reforms to incentivize increased affordability and onsite inclusionary housing.
• Additional funding sources that allow us to expand housing support at all income levels, including new funds that can help middle income families without impacting the funding streams already dedicated to producing more deeply affordable homes.
TRANSPORTATION
Mayor Lee announced in last year's State of the City that he will convene a San Francisco Transportation 2030 Task Force that will include regional transportation agencies and key stakeholders to develop a comprehensive roadmap and coordinated set of priorities and actionable recommendations to maintain the condition of the City's streets and make Muni and other transportation systems more reliable.
This November, working with the Board of Supervisors, Mayor Lee will support the Transportation 2030 Task Force's two recommendations for 2014, bringing to the voters a $500 million general obligation transportation bond and a measure to increase the local vehicle license fee.
Taking a comprehensive approach to funding San Francisco's transportation system, Mayor Lee called upon the SFMTA Board of Directors to suspend Sunday meters beginning with the new fiscal year. Last year, the SFMTA began a pilot program to fund free muni passes for low-income youth, and Mayor Lee called to make the initiative permanent in the SFMTA's next two-year budget.
EDUCATION
Mayor Lee announced expansion of the Mayor's Middle School Leadership Initiative, a first of its kind public-private partnership aimed at dramatically improving STEM (Science, Technology, Engineering and Math) education in SFUSD, to middle schoolers in all K-8 Schools including Bessie Carmichael, Lawton, Paul Revere and others.
Last year, San Francisco passed a budget with a record investment in public schools, and this year, San Francisco will surpass even that. In 2014, Mayor Lee will propose to fund the school district at a level never before seen in San Francisco history, with $66 million for our public schools and $27 million more for universal pre-school. Along with Governor Jerry Brown's commitment to greater funding for schools proposed last week in the State budget, San Francisco will be among the highest in per-student spending in the State of California.
In November, Mayor Lee will ask San Francisco voters to renew the Children's Fund and the Public Education Enrichment Fund, so working with the SFUSD, investments today will directly lead to a world class public school system, starting with universal pre-school and continuing through college.