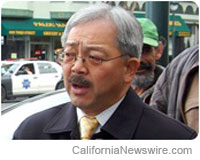 SAN FRANCISCO, Calif. /California Newswire/ — Joined by dozens of high tech student trainees and representatives of San Francisco's major technology companies, Mayor Edwin M. Lee launched TechSF – a citywide workforce initiative that aims to train and place 2,500 San Francisco residents from diverse backgrounds in high technology jobs over the next five years.
TechSF leverages $8 million in workforce training grants from the U.S. Department of Labor (DOL) to provide education, training and job placement assistance to both jobseekers and private sector employers, from tech training for graduating high school students to "skill up" and advancement training for transitioning jobseekers in the middle of their careers. TechSF is a partnership between the San Francisco Office of Workforce & Economic Development (OEWD), community colleges and educational institutions, workforce training nonprofit organizations and private sector technology companies and organizations like San Francisco Citizens for Technology & Innovation (sf.citi).
"Innovating technology companies are leading our City's economic recovery and creating thousands of new jobs, but we must ensure that San Francisco residents from every background are getting the training and skills they need to compete and win in the 21st century economy," said Mayor Lee. "TechSF is at the core of our economic strategy to build public-private partnerships that bridge students, veterans and people in the middle of their careers to high tech training and private sector job opportunities."
"At sf.citi, we are committed to supporting the tech industry in San Francisco and ensuring that San Francisco residents from every background and age range can get the training, skills and job placement assistance they need to compete and win the jobs the tech sector is creating," said Ron Conway, Chair of San Francisco Citizens for Innovation & Technolgy (sf.citi), a partner in TechSF representing more than 350 San Francisco high technology companies. "We are so pleased that so many of our members have made a commitment to building San Francisco's workforce by being here today and thrilled that Jawbone, one of our founding member companies, will be taking a leadership role in this effort."
The first class of the TechSF Academy is currently 80 students taking courses in mobile app development, networking, multimedia design (game development, web design, content creation, and video production), and tech support. Training partners in the TechSF initiative include Bay Area Video Coalition (BAVC), Bayview Hunter's Point Center for Arts & Technology (BAYCAT), City College of San Francisco, San Francisco State University and Year Up Bay Area.
"TechSF is a welcomed addition to our community particularly because it brings critical workforce training to ensure our residents and our youth have the skills necessary to secure high tech jobs of the future," said Supervisor Malia Cohen.
TechSF is a key part of Mayor Lee's 17-point economic plan to train and place San Francisco residents in high tech jobs, including young people graduating from high school and local colleges and universities, as well as the Mid-Career Academy focused on returning veterans and men and women in the middle of their careers in search of new training, education and job opportunities. In March, Mayor Lee announced the TechSF initiative through $8 million from the U.S. DOL to train and reskill San Francisco residents for the City's growing number of technology and IT jobs. TechSF works with industry employers to identify job needs—including mentoring, internships, interviews, curriculum development, and co-teaching.