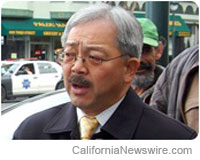 SAN FRANCISCO, Calif. /California Newswire/ — Mayor Edwin M. Lee and Square CEO Jack Dorsey today announced that Square, the company "making commerce easy for everyone," is relocating its corporate headquarters to 1455 Market Street in the City's Central Market neighborhood. Square has signed a lease and expects to move into its new location in mid-2013.
"Square is one of the City's great technology companies, and will be a great addition to the Central Market as revitalization continues in the community," said Mayor Lee. "Our City leads the way in attracting and retaining some of the most innovative companies in the world, with companies like Square at the forefront. I would like to personally thank Jack Dorsey for his commitment to San Francisco. Jack is one of San Francisco's greatest entrepreneurs and a driving force behind San Francisco's ability to remain the 'Innovation Capital of the World.'"
"We're grateful for San Francisco's commitment to technology, and we're thrilled the City will remain our home," said Square Co-Founder and CEO Jack Dorsey. "Square businesses have already facilitated more than $300 million in commerce in San Francisco, and there's so much more we can do to make a difference in the City and around the world."
Square moved into its first office in the San Francisco Chronicle Building on Fifth and Mission Streets in December 2009 when the company had ten employees. Square has since grown to more than 400 employees, and plans to employ nearly 1,000 people by the end of 2013.
Building renovations will begin at the end of 2012 to construct an open, collaborative space, a roof deck, chef's kitchen and other amenities for Square employees. Square also has offices in New York and Atlanta.
Square's move to Central Market further demonstrates that the City's overall efforts to revitalize the neighborhood are working. The Mayor's Central Market Economic Strategy, launched in December 2011, pairs a new focus on safety and attention to activating public spaces through the arts with a range of programs and partnerships that will lead to a long-term transformation of the area.
About Square, Inc.
Square is making commerce easy for everyone. Starting with a free credit card reader for the iPhone, iPad, and Android devices, Square allows anyone to accept credit cards anywhere, anytime. Square Register serves as a full point-of-sale system for businesses to accept payments, track inventory, and share menu and location information. Square Wallet is the most seamless way to pay, enabling individuals to pay with their names at their favorite local businesses, discover new ones nearby, explore menu listings, and store receipts. Founded in 2009, and headquartered in San Francisco, Square is currently available only in the U.S. For more information, go to www.squareup.com.