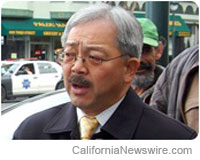 SAN FRANCISCO, Calif. /California Newswire/ — S.F. Mayor Edwin M. Lee on Monday announced Marc and Lynne Benioff and the Salesforce.com Foundation will renew their important financial support to house homeless families in San Francisco and announced additional contributions from City agencies. Contributions will ensure a second successful year for the Home for the Holidays initiative.
"This City has a world class heart, and once again, the Benioffs and Salesforce.com Foundation are setting a great example by stepping forward during the holidays to help us end homelessness for hundreds of families," said Mayor Lee.
Marc and Lynne Benioff are making the following donations:
• $250,000 to Catholic Charities CYO's Star Community Home to provide temporary housing and assistance to families in need. This will be executed as a challenge grant, whereby contributions by the public to support Star Community Home will be matched dollar for dollar by the Benioffs, up to the amount of their gift.
• $230,000 to Hamilton Family Center's First Avenues program to provide temporary rental subsidies to help at-risk families from becoming homeless.
• $70,000 to the San Francisco Chronicle's Season of Sharing Fund to provide one-time temporary assistance to families experiencing unexpected crisis.
"Marc and I want to further our partnership with the City to break the cycle of homelessness for children and families in San Francisco," said Lynne Benioff. "We hope that others will join us this holiday season to ensure the health and safety of every child in the City."
In 2011, Marc and Lynne Benioff and the Saleforce.com Foundation provided $1.8 million to support the Star Community Home and provide rental subsidies. The City matched this effort by expediting the lease of vacant public housing units and including families in the City's shelter system. Salesforce.com employees contributed both financially via donations which were matched dollar for dollar by the Salesforce.com Foundation, and by participating in volunteer activities at the organizations.
The City is proud to match the generous donations from the Benioffs and the Salesforce.com Foundation. As part of Mayor Lee and the Board of Supervisors commitment to preventing and ending family homelessness, $1 million was added to the City budget for homeless prevention and re-housing assistance through the Eviction Defense Collaborative. Funded services include legal assistance, back rent and security deposit assistance and short-term rental subsidies. At least $500,000 of these funds will be used to support homeless families.
This renewed effort comes during the Season of Giving, Mayor Lee's holiday initiative to highlight the many community-based organizations that serve our diverse communities. Together with San Francisco social service providers, Mayor Lee is encouraging all San Franciscans to give back to their own communities by supporting organizations that are providing warm meals, a place to stay and other essential services to the people of San Francisco. These nonprofit partners are already providing to our neediest communities and it is critical that the public support these collective efforts to provide for those most in need.
The public can contact 311 for additional information on gift giving programs and services that provide the comfort of food and shelter during the holiday season.
For more information about the San Francisco Season of Giving campaign, go to: sfgov.org/seasonofgiving.
For more information about the Catholic Charities CYO's Star Community Home, go to: www.cccyo.org.
For more information about the Hamilton Family Services' First Avenues program, go to: www.hamiltonfamilycenter.org.