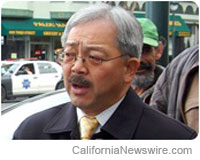 SAN FRANCISCO, Calif. /California Newswire/ — S.F. Mayor Edwin M. Lee today announced an agreement between the Golden State Warriors, local building trades unions and community groups to hire a minimum number of San Francisco residents for the construction of a proposed basketball and performing arts venue on San Francisco's waterfront. In an unprecedented step for a privately-funded construction project, the Warriors development team, labor, and community advocates committed to hiring 25 percent of the overall workforce from San Francisco.
"Creating and maintaining jobs in San Francisco benefits residents and local businesses; who in turn fuel our economy and keep our City moving in the right direction," said Mayor Lee. "In addition to their commitment to invest private funds to build a world class state-of-the-art venue, the Golden State Warriors have worked with labor and the community to create an unprecedented opportunity for our local workforce. As a champion for job creation and local hiring, I applaud the Golden State Warriors on this historic commitment."
"This ownership group has made a commitment to build the Warriors into a World Class organization and to demand excellence on and off the court," said Warriors President Rick Welts. "And when it comes to building our new home in San Francisco, that means hiring union, and hiring local. Together, we're all in."
In addition to the commitment to hire 25 percent of the overall workforce from among San Francisco residents, the Warriors, labor representatives and workforce advocates agreed that 50 percent of apprentice-level workers would be hired locally as well. A "Helmets to Hardhats" program connecting returning veterans to construction jobs on the project was also announced as part of the agreement.
"This solidifies the Warriors' commitment to training San Francisco's workforce," said Northern California District Council of Laborers Oscar De La Torre. "Not only are they bringing the team home to San Francisco, but they are bringing thousands of quality, union jobs for our local residents with them."
"This is absolutely historic," said Brightline Defense Project Executive Director Joshua Arce. "We have never seen any privately funded project – particularly no project of this scale and potential positive community impact – commit to a local hiring requirement."
In May, the Warriors announced their intention to build a new 17,000 seat sports and entertainment arena on the waterfront in San Francisco in time for the 2017-18 NBA season. The arena will be located at Piers 30-32 on San Francisco Bay, south of the Bay Bridge, between the Ferry Building and AT&T Park.
According to the recent Piers 30-32 fiscal feasibility report, more than 4,300 direct jobs will be created citywide: 2,623 (construction) / 1,757 (permanent). The three-year construction project is also estimated to add another $1.5 billion into the workforce and economy through one-time construction and another $500 million in annual investments to the workforce on an ongoing basis.