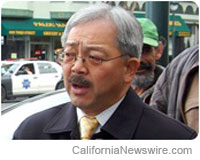 SAN FRANCISCO, Calif. /California Newswire/ — On Wednesday, S.F. Mayor Edwin M. Lee announced that the City's successful solar initiative, GoSolarSF, will receive an additional $2 million in funding for the fiscal year 2013-2014. The additional allocation will increase the total funds available for GoSolarSF financial incentives starting July 1, 2013 to $4 million. GoSolarSF funds will be available for all incentive categories, which include residential, low-income residential, business and non-profit.
"GoSolarSF has shown a proven track-record of success and has created more than 100 jobs for San Franciscans while jump-starting our own local solar industry," said Mayor Lee. "Today, our City is a leader in clean energy because we're reducing greenhouse gas emissions, in part, by generating more and more of our energy locally from rooftop-installed solar arrays."
GoSolarSF is a program run by the San Francisco Public Utilities Commission (SFPUC) that provides incentives for San Francisco residents, businesses and non-profits to install solar panels on their property.
To-date, the program has reserved $18.3 million for approved applications and $17.1 million in pay outs to applicants. Since the program began, GoSolarSF has helped to fund more than six megawatts of new solar arrays in San Francisco.
"Rooftop solar is one of the easiest ways that San Franciscans can do their part to combat global climate change and reduce their monthly electricity bill," said SFPUC General Manager Harlan Kelly. "Our incentive for low-income residential customers is one of our most popular incentives, which is proof that GoSolarSF is for all San Franciscans.
In addition to sparking a green energy revolution rooftop-by-rooftop, GoSolarSF has fostered a new generation of San Franciscans, skilled in the complex art of solar installation. The majority of certified GoSolarSF installers employ San Franciscans that have been trained through our City's innovative workforce development program that provides training and employment opportunities to disadvantaged San Franciscans. To-date, the program has employed and trained 107 solar technicians.
The GoSolarSF incentive program for private electricity customers also complements the City's successful municipal solar installation program. Since 2004, San Francisco has generated 7.4 megawatts of solar energy to power City facilities. The largest array at Sunset Reservoir, generates up to five megawatts of clean renewable energy and is one of the largest, urban municipal solar arrays in California.
For more information on the GoSolarSF incentive or to apply, go to: www.sfwater.org.