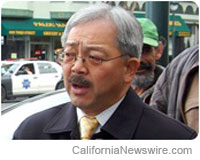 SAN FRANCISCO, Calif. /California Newswire/ — On Thursday S.F. Mayor Edwin M. Lee announced that NewME Accelerator, an accelerator for businesses led by underrepresented minorities in the technology industry, moved to the Bayview. NewME signed a three-year lease at 1552 Yosemite Avenue and is housing their members on nearby on Third Street. By moving the residential and office components together and to the Bayview, NewME will help minority entrepreneurs break into the tech sector, engage the local community and draw inspiration from the neighborhood as they build their companies.
"NewME's move to the Bayview will provide minority entrepreneurs an even greater opportunity to start and grow companies here, which supports our communities, creates new tech jobs and inspires a new generation of entrepreneurs," said Mayor Lee. "Accelerators and tech companies alike are moving to San Francisco to do business in the 'Innovation Capital of the World' because we have built an ecosystem of talent, creativity and capital."
"NewME is a great addition to the neighborhood," said Supervisor Malia Cohen. "Our Southeastern neighborhoods are home to many innovative entrepreneurs and companies like NewME provide a diverse range of economic opportunities that have traditionally only existed outside of the community."
"It was important to me that NewME continue to evolve and provide our companies with the best opportunities for mentorship and success in the technology industry," said NewME Founder Angela Benton. "This new location allows our member companies to live, work and grow within a community. We know that the Bayview will allow our companies to reach the next level as they develop their companies and in turn will afford future generations with greater opportunities in this field."
The new location in the Bayview will house the third class of the NewME Accelerator. After beginning the program in Mountain View, NewME participants wanted to move the program to San Francisco to be close to the business networks that are critical to the success of start ups. Ready for a space of their own, this new Bayview location will provide NewME with room to grow their program and to further their engagement with San Franciscans.
Entrepreneurs that participate in the NewME Accelerator are able to receive mentorship and network with the deep talent pool in San Francisco, not only allowing them to grow their companies but also providing them with the tools and the connections necessary to succeed in the tech industry.
"The NewME program in San Francisco was key in my start-up's ability to go from idea to company," said AgLocal CEO Naithan Jones, a recent graduate of the NewME program. "The ecosystem provided by the program was unique in that with it being a residency program, it made moving and living in San Francisco easier while also giving access to the unique networks and knowledge inherent here."
About NewME Accelerator
NewME Accelerator is a 12 week residential technology accelerator for companies with minority-led Founders not currently represented in the industry: Women, African-Americans, and Latinos. Is mission is to accelerate, educate, and empower underrepresented tech talent around the world. Founded in the summer of 2011, NewME Accelerator is backed by some of the technology industry's leading companies; Google, Andreessen Horowitz, Wilson Sonsini Goodrich & Rosati, and Tagged. For more information, go to: www.newmeaccelerator.com.
About AgLocal
AgLocal is a mobile based App and platform designed to connect consumers and businesses with local meat farmers, offering delivery options, ecommerce and a social community. They plan to incorporate local community citizenship by setting aside a portion of each sale for local food pantries that feed the hungry.