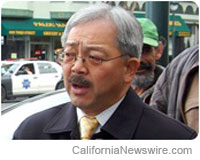 SAN FRANCISCO, Calif. /California Newswire/ — On Tuesday, S.F. Mayor Edwin M. Lee and District 4 Supervisor Carmen Chu announced the launch of a new Invest in Neighborhoods pilot program called the Americans with Disabilities Act Small Business Assessment Program. The pilot will begin in District Four and will provide small businesses with an Americans with Disabilities Act (ADA) assessment report, a plan for compliance, and access to new grant funding and loan programs to make upgrades.
"This new ADA Business Assessment Program takes a proactive approach to improving ADA compliance for our San Francisco small businesses and provide accessibility for everyone," said Mayor Lee. "This program is another example of the focused, customized assistance that my Invest in Neighborhoods Initiative provides to help small businesses succeed."
"In light of state and federal ADA laws, we want to make sure that businesses understand what they need to do to come into compliance," said Supervisor Chu. "One important step that businesses can take is to undergo an inspection of their site, and we want to encourage every business to do so. This not only helps protects them in the event of a lawsuit, but also ensures that our entrepreneurs are taking steps to making their businesses open to everyone in the community."
The assessment program will provide a small business with a report and plan toward compliance. The goals of the program also include educating small businesses about how to identify and prioritize ADA improvements. A significant concern from small business has been a lack of understanding of ADA requirements and misconceptions about the law. The education that the assessment program provides will empower small businesses to prepare their stores and make them accessible.
OEWD partnered with City agencies including City Administrator's Office, Office of Small Business, Mayor's Office of Disability, Planning Department, Department of Building Inspections and Department of Public Works and with nonprofit organization Asian Neighborhood Design (AND) on the ADA Small Business Assessment Program. AND has been instrumental to the successful SF Shines Façade and Tenant Improvement program. AND has multilingual staff members who are already working closely with small businesses along San Francisco neighborhood commercial corridors including Leland Avenue, Mission Street in the Excelsior, Third Street in the Bayview, Ocean Avenue and Sixth Street in SoMa.
"Asian Neighborhood Design is excited to team up with the Office of Economic Workforce Development and the Office of Small Business to help educate businesses on the importance of disabled access," said AND Executive Director Steve Suzuki. "Our aim is to raise awareness on accessibility and to reach a built space that is inclusive to all patrons."
The new ADA Small Business Assessment Program will pilot in District 4. Small business owners can fill out a simple two-page assessment application form. OEWD will review applications on a rolling basis and award eligible businesses/property owners on a first come first served basis.
For more information about the ADA Business Assessment Program, go to: http://www.oewd.org/ADAAssessments.aspx
Mayor Lee today also highlighted three Sunset neighborhood commercial corridors in the Invest in Neighborhoods Initiative: 1) Noriega Street from 19th to 33rd Avenue & Noriega Street from 45th to 47th Avenues, 2) Irving Street from 19th to 27th Avenues, and 3) Taraval Street from 19th to 48th Avenues.
Invest in Neighborhoods provides focused, customized assistance that meets the specific needs of San Francisco's neighborhood commercial districts by leveraging existing programs from across multiple departments and nonprofit partners. The 25 neighborhood commercial districts selected for Invest in Neighborhoods will receive an initial corridor assessment, a point person at City Hall, an opportunity to apply for small project grants, and access to a range of other services aimed at strengthening neighborhood commercial corridors. The ADA Small Business Assessment Program is part of the customized interventions of Invest in Neighborhoods which includes the Jobs Squad, SF Shines façade improvement program and the Small Business Revolving Loan Fund. The Invest in Neighborhoods Initiative and Jobs Squad are part of Mayor Lee's 17-point Roadmap to Good Jobs and Opportunity plan to create jobs and promote smart economic growth and development for San Francisco.