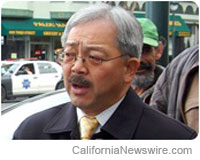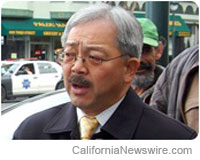 SAN FRANCISCO, Calif. /California Newswire/ — On Tuesday S.F. Mayor Lee and Board of Supervisors President David Chiu announced introduction of new Open Data legislation to strengthen San Francisco's landmark Open Data initiatives, including the creation of a Chief Data Officer and encouraging the use of information for more efficient government services. The legislation is a major milestone in San Francisco's Open Data initiative.
"Making City data available to everyday citizens will help government explore new solutions to old challenges," said Mayor Lee. "Changing Open Data policies can unleash the creativity of the private sector so they can help us improve City services that impact our lives, from transportation, to how we access our parks, to how we request City services, making San Francisco the leader in Gov 2.0."
"Strengthening our Open Data law will help us use technology to make government more efficient and accountable," said Board President Chiu, who co-founded a technology company prior to his election in 2009. "San Francisco created an incredible model for government encouragement of Open Data, but now we need to take our efforts to the next level."
Mayor Lee also announced a new ground-breaking collaboration between City government and private industry partners. Motionloft, a real-world analytics company, will contribute a portion of their rich datasets to the City's Open Data portal, DataSF. They are the first private business to partner with San Francisco in opening City-related data to the public.
"This is exactly the type of project that demonstrates how San Francisco companies are using their talents to give back to our communities," said sf.citi Chairman Ron Conway. "Today's leading tech companies have a wealth of data that would be invaluable to enhancing City services, and both the City and our tech industry benefit when we use Open Data to collaboratively improve the quality of life for San Franciscans."
Mayor Lee also launched the new Recreation and Parks Department (RPD) mobile application as one of the many ways Open Data can be used to make government services more accessible to our City's residents. The new application gives residents the ability to find new parks and playgrounds, submit feedback, and future updates will include mobile ticketing, permits and more. RPD partnered with San Francisco-based Appallicious, a mobile commerce company, to develop the Rec and Park app at no cost.
"San Francisco has world-class parks, fields and facilities, and now it has a world-class app for residents and visitors" said RPD General Manager Phil Ginsburg. "The San Francisco Rec and Park app will bring our parks into the 21st century, helping the public to find a new trail for a hike, the best dog-friendly parks and information on the hundreds of City playgrounds."
In 2009, Mayor Gavin Newsom issued an Open Data Executive Directive requiring City departments to make all non-confidential datasets under their authority available on DataSF.org, the City's one stop web site for government data. The new Open Data legislation once again demonstrates what it means for San Francisco to be on the cutting edge of government openness and transparency by making data sets publicly available and making City services easier to access for our residents.
Mayor Lee and Board President Chiu will introduce the Open Data legislation at the Board of Supervisors' October 16th meeting.