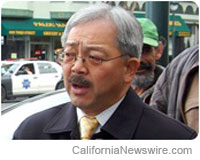 SAN FRANCISCO, Calif. /California Newswire/ — On Friday, S.F. Mayor Edwin M. Lee and New York City Mayor Michael Bloomberg announced that they will co-host the second annual Bloomberg Technology Summit to bring together technology and business leaders to discuss the challenges and opportunities facing the nation's top digital cities and examine what other cities can do to grow their tech sectors and enjoy the economic benefits that come with it.
The announcement was made at Square headquarters in San Francisco, a company that builds technology to make commerce easy for everyone. The first session of the summit will take place in New York City on September 30th, and the second session will occur in San Francisco early in 2014.The event is being co-hosted by Bloomberg Philanthropies and San Francisco Citizens Initiative for Technology and Innovation (sf.citi).
"San Francisco and New York City share some of the world's greatest talent, and I'm excited to partner with Mayor Bloomberg to bring the Bloomberg Technology Summit here to the Innovation Capital of the World," said Mayor Lee. "The summit will be a unique opportunity to bring together some of the top tech and innovation leaders from both coasts to develop and expand upon the lessons we've learned in these great digital cities, and share them with our fellow mayors across the country."
"Over the past decade, the growth of New York City's tech sector has been momentous – powering economic growth and job creation, and adding to the vitality of our city," said Mayor Bloomberg. "With Washington in gridlock, innovation will increasingly have to come from our urban centers. I am delighted to be partnering with Mayor Lee and to share the experiences, best practices, and lessons of our two great cities."
"Square makes commerce easy by building tools that help businesses grow," said Square Co-Founder and CEO Jack Dorsey. "Technology and innovation are the key to job creation and economic growth, so we're thrilled Mayor Lee and Mayor Bloomberg are encouraging entrepreneurship in cities across the country."
Over the last decade New York and San Francisco have successfully attracted, retained, and grown the tech sector into a robust and integral part of their economies. This sector thrives on the benefits of urban life – from the interaction with other businesses to vibrant creative and cultural offerings – and their innovations are contributing significantly to each city, attracting thousands of new workers and families and revitalizing long-overlooked neighborhoods.
The upcoming summit will bring together approximately 25 leaders in technology, business, government, and the community for an intensive series of discussions and roundtables to explore the innovations that have enabled New York and San Francisco to succeed, as well as the challenges they face, including:
• Educating the digital workforce;
• The role of immigration;
• Building a modern infrastructure;
• Office space and housing;
• Funding and financing start-ups; and
• Using tech sector growth to help the entire city.
Ultimately, these meetings will seek to identify the best practices of New York City and San Francisco and produce a roadmap for other cities to follow.
Launched last year, the Bloomberg Technology Summit is an annual event that brings together a small, select group of senior business, tech, government, and community leaders for intensive off-the-record conversations and collaborations about the future of technology, its role in our economy, and the challenges and opportunities it presents for cities and the country as a whole.
The inaugural summit took place in New York City on October 1, 2012 and brought together leaders including Eric Schmidt from Google, Dick Costolo from Twitter, Perry Chen from Kickstarter, Fred Wilson from Union Square Ventures, Chad Dickerson from Etsy, Michael Moritz from Sequoia Capital, Kenneth Chenault from American Express, Terry Lundgren from Macy's, Arianna Huffington of the Huffington Post, and top city officials. The event also featured "NYC Connects" which brought together more than 1,000 leaders from the New York start-up community for an open-house reception hosted by Mayor Bloomberg at Gracie Mansion.
Additional details about the upcoming Bloomberg Technology Summit in New York and San Francisco – including attendees, venues, and agendas – will be announced over the coming months.
About Bloomberg Philanthropies
Bloomberg Philanthropies is on a mission to improve and lengthen lives. We focus on five key areas to create lasting change: Public Health, Environment, Education, Government Innovation, which includes the Mayors Challenge, and Arts & Culture. Bloomberg Philanthropies encompasses all of Michael R. Bloomberg's charitable activities, including his foundation and his personal giving. In 2012, $360 million was distributed. For more information, go to: www.bloomberg.org.
About sf.citi
San Francisco Citizens Initiative for Technology and Innovation (sf.citi) is an organization created to leverage the collective power of the technology community as a force for civic action in San Francisco. sf.citi supports innovative policies and works collaboratively with government to find new solutions to historic problems facing San Francisco, and consolidate a voice in promotion of tech sector interests and growth. Over 600 San Francisco based technology companies and organizations are members of sf.citi. For more information, go to: www.sfciti.com.