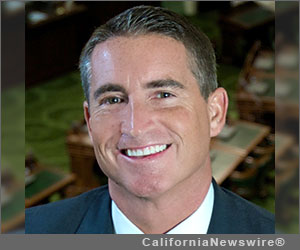 VENTURA, Calif. /California Newswire/ — Today, at the request of local veterans groups and Seabee boosters, Calif. Assemblyman Jeff Gorell (R-Camarillo) introduced Assembly Concurrent Resolution 18 to rename a segment of Pacific Coast Highway 1 as "Seabee Memorial Highway." The section of highway between Mugu Rock and the City of Ventura would be designated in honor of the men and women who have served and sacrificed throughout history while serving in the U.S. Navy Seabees.
The Navy Construction Battalions or "Seabees" have a history of building bases, bulldozing and paving thousands of miles of roadway and airstrips, and accomplishing a myriad of other construction projects dating back to World War II. They also served in Korea, Vietnam, the Gulf War, Afghanistan, Iraq, and have provided relief to disaster victims, such as those from Hurricane Katrina and the Indonesian Tsunami. Seabee moxie and heroism during the war in the pacific was portrayed in the 1944 John Wayne movie "The Fighting Seabees."
Gorell will be working with the Navy Base, supporters of the local Seabee Museum, and the local community to bring attention to the heroism of our Navy Seabees and the role of Ventura County and its Navy bases in training and deploying Seabees. Port Hueneme has been the home of the Pacific Seabees since World War II; and the local Navy bases are the largest employer in Ventura County.
"My grandfather, Fred Gorell, was a Navy Seabee in the Pacific in World War II and served with distinction embedded with the U.S. Marines", said Assemblyman Gorell, a Navy Reserve Lt. Commander and two-time veteran of the War in Afghanistan. "Navy Seabees fought and died to build, dig, detonate and dredge their way to victory. It's fitting that we do what we can to honor them for their sacrifice."
Seabees continue to play a major role in the war on terrorism. In support of Operation Enduring Freedom, Seabees repaired runway facilities at Camp Rhino and Kandahar in Afghanistan. Seabee battalions have rotated deployments through Helmand Province Afghanistan to work with Marines to build roads, clinics, schools and other infrastructure that will help provide independence and transition farmers off the opium industry that fuels Taliban and insurgent operations.
The cost of renaming and signage to dedicate the "Seabee Memorial Highway" will come entirely from independent, private funds, and not from public sources.