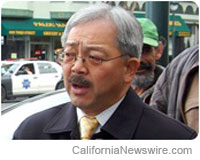 SAN FRANCISCO, Calif. /California Newswire/ — Today, S.F. Mayor Edwin M. Lee cut the ribbon on the new Fire Station One, located at 935 Folsom Street in the South of Market neighborhood, which is the first new San Francisco Fire Department (SFFD) fire station in more than 40 years. The new Fire Station One is a result of a public-private partnership between the City and San Francisco Museum of Modern Art (SFMOMA) from 2010 and is part of the City's plan to rebuild San Francisco's aging public infrastructure and to protect the safety of its residents.
"Investing in our City's public safety infrastructure is critical to providing unparalleled services to residents in need 24 hours a day and being prepared for any emergency or disaster response," said Mayor Lee. "Our City's partnership with SFMOMA made it possible to make this vital capital improvement to San Francisco's infrastructure. This new Fire Station One services a growing and transforming neighborhood in our City and meets the needs of our residents."
"The South of Market is growing and undergoing many exciting changes," said District 6 Supervisor Jane Kim. "Fire Station One is one of the busiest in the entire country showcasing the importance of a facility that can support and meet the demands of our firefighters, so they can continue to serve the thousands of residents and patrons that live, work, and play in the Tenderloin, South of Market and Sixth Street communities."
The new 15,136 square foot SFFD fire house integrates a variety of simple strategies to reduce resource consumption and provide healthy living spaces. The new fire station is a modern, safe and durable emergency facility that is built to seismic code and safety standards, featuring a low-energy building system to reduce electricity consumption, solar water heating units, daylighting systems, and technology that provides advanced indoor air quality. Built to green building standards, the new Fire Station One is designed to meet LEED Gold certification.
The new Fire Station One building was designed by Architectural Design Firm Leddy Maytum Stacy and constructed by Webcor Builders. The San Francisco Fire Department, the Department of Public Works and the City Administrator's Office provided project management and technical support for this project. Fire Station One provides three apparatus bays, communications facilities, equipment storage and living spaces for rotating crews of 13 firefighters per shift for a total of 60 firefighters staffing the facility with dedicated emergency medical and fire services.
"This public-private partnership resulted in a safe, efficient and functional workplace for our members," said SFFD Chief Joanne Hayes-White. "The people that we serve are the benefactors of the sense of security that comes with knowing this. Our appreciation of the creative thinking that inspired this project goes beyond the walls of this building. It sets an example for future public-private partnerships."
Built in the early 1900's, the original Fire Station One located at 676 Howard Street next to the SFMOMA was deteriorated and in dire need of more than $9 million worth of repairs and upgrades to make it a seismically safe workplace for the SFFD first responders stationed there. The last fire station that was commissioned and dedicated was Fire Station 43 located at 720 Moscow Street in the Excelsior neighborhood in 1970.
SFMOMA's upcoming expansion project will accommodate the museum's growing collections and expanded educational and public programming initiatives. Early in the expansion planning, the museum was interested in discussing the possibility of acquiring the nearby property, where Fire Station One was originally located. The result was a private/public partnership that led to the construction of the new station to meet the growing demands of the growing neighborhood.
"This unique opportunity and innovative partnership between the City and SFMOMA has resulted in a win-win for San Francisco and the museum," said SFMOMA Director Neal Benezra. "I'm delighted that our collaboration has allowed the creation of a new, modern, and seismically safe Fire Station One, while also providing space for us to share more of our collections and programs with San Francisco residents and out-of-town visitors once our expansion is complete."
San Francisco is working to seismically upgrade and make health and safety improvements to neighborhood fire stations throughout the City. Supported under the City's Ten-Year Capital Plan and as part of the voter-approved Earthquake Safety and Emergency Response Bond, which passed by 79 percent of the voters in 2010, twenty two stations will be improved with two built from the ground up. Nearly $73 million in fire station upgrades are under way, in design or construction. For more information, go to: http://sfearthquakesafety.org/.