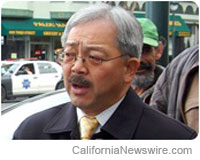 SAN FRANCISCO, Calif. /California Newswire/ — Last week, S.F. Mayor Edwin M. Lee announced that San Francisco awarded as the host of the U.S. Conference of Mayors (USCM) 83rd Annual Meeting in June 2015. An estimated 200 mayors will gather in San Francisco at the Hilton Union Square Hotel for the four-day session, led by Mayor Lee as the host city mayor and the Conference President. During the meeting, mayors from all over the country will come together to discuss public policy issues impacting residents in cities large and small.
"This is a great opportunity to showcase San Francisco as both a world-class tourist destination and hub for innovation in our country," said Mayor Lee. "Events like these help unite leaders from around the country to exchange ideas and make our cities even stronger. I would like to thank President Scott Smith, Vice President Kevin Johnson, former President Antonio Villaraigosa and CEO Tom Cochran for their work on the U.S. Conference of Mayors, and I look forward to working with Host Committee Chair Mayor Willie Brown to make the Summer of 2015 in San Francisco a great success."
"The nation's mayors are excited to return to San Francisco for the 83rd Annual Meeting in June 2015," said USCM CEO and Executive Director Tom Cochran. "San Francisco is truly a world-class city and is the perfect place for mayors to learn and discuss the issues of the day."
The economic health of the nation's cities, public safety, infrastructure investment, energy efficiency, and housing and support for returning Veterans will continue to be issues that face cities in the coming years. On the final day of the meeting, the mayors will debate and vote on policy resolutions to forward to Congress and the Administration in the hopes of shaping federal legislation.
Mayor Lee is committed to designing a robust four-day program, complete with opportunities to explore diverse neighborhoods of the City, events that span arts and culture to travel and tourism, sample food and wine from the region, and engage with companies doing innovative work in a variety of sectors including tech, biotech, cleantech and digital media.
As Mayor Willie Brown did in 1997 when San Francisco last hosted the USCM Annual Meeting, Mayor will schedule a host of events and opportunities for Mayors and their delegates to explore San Francisco and learn about its unique neighborhoods.