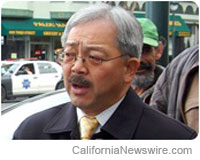 SAN FRANCISCO, Calif. /California Newswire/ — SF Mayor Edwin M. Lee on Wednesday announced that San Francisco has received the distinction as America's Best City in Bloomberg Businessweek.com's 2012 best places to live ranking. San Francisco topped their list of 100 American cities researched.
"It's certainly an honor for San Francisco to be named 'America's Best City,' and it's great to get recognition for the good work San Franciscans have done," said Mayor Lee. "San Francisco is committed to being the best place to live, work and visit, and there is nowhere else on earth where you will find the economic opportunities and world-class events found in our great City."
San Francisco ranked first overall due to an impressive performance across the board, with the highest score for education, ranking sixth in leisure and placing in the top 20 for economic factors and air quality. Because of the endless stream of international sporting events and cultural celebrations being held in San Francisco, thousands of tourists pour into the City every day and will continue to do so for years. The wealth of food trucks, restaurants, bars and parks make it one of the most unique and diverse places to live in the world.
For the study, Bloomberg Businessweek.com evaluated data on the country's largest cities, looking at the number of restaurants, bars, libraries, museums, professional sports teams, park acres by population, public school performance, the number of colleges, rate of graduate-degree holders, income, unemployment, crime and air quality. San Francisco finished ahead of Seattle, Portland, New York, San Diego, Los Angeles and Washington, D.C.
For ranking results of the Businessweek.com's 2012 Best Places to Live, go to: http://images.businessweek.com/slideshows/2012-09-26/americas-50-best-cities
In just a few weeks, San Francisco is set to host a number of large scale events – from neighborhood driven events like the Castro Street Fair to Hardly Strictly Bluegrass in Golden Gate Park to international events like Fleet Week and the 34th America's Cup World Series Races to highly anticipated sporting events from our hometown teams, the National League West Champion San Francisco Giants and the San Francisco 49ers.