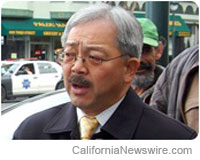 SAN FRANCISCO, Calif. /California Newswire/ — S.F. Mayor Edwin M. Lee on Tuesday announced during his remarks at TechCrunch Disrupt SF that October 2012 is Innovation Month in San Francisco. This declaration is both a celebration and a call to action to highlight the City's need to further embrace technology and catalyze greater job creation, community engagement and government efficiency through innovation.
"Innovation can drive solutions to social and civic challenges, it can help build our economy and it can help generate jobs," said Mayor Lee. "As the Innovation Capital of the World, San Francisco is home to the top technology and creative talent in the world, and we continue to attract companies such as Pinterest and Twitter because we have created an environment that embraces and celebrates innovation. The month will highlight and promote innovation in both the civic and private sectors to create a better San Francisco."
Innovation Month will celebrate the individuals and the civic and private institutions that build opportunities for innovation in the city of San Francisco. As part of Mayor Lee's vision, San Francisco continues to partner with local organizations such as Code for America (CfA), the world's first Civic Startup Accelerator to support entrepreneurs who launch companies to make City government more responsive, efficient and connected. Today, the City joined CfA's 2013 Fellowship program which connects forward-thinking cities with the talent from the web industry to develop solutions that can be replicated nationwide.
Events cross several business and civic sectors and include the Code for America Summit, OpenCoSF, the UP Festival, app and program launches and hackathons. Innovation Month will foster creativity and strengthen entrepreneurship in the City.
To host and promote citywide Innovation Month events, the Mayor's Office is partnering with Golightly House, Gray Area Foundation for the Arts (GAFFTA), Office of Economic Workforce Development, and San Francisco Travel.
Mayor Lee also today launched the interactive InnovateSF Map, a map visualizing the creative and technology companies in San Francisco. The map is powered by the CrunchBase API using crowdsourced information to build better city-planning tools. The City worked closely with GAFFTA using technologies that were developed by San Francisco-based companies, such as Stamen Design and Heroku. The map provides a platform to demonstrate how much funding is coming in to San Francisco startups, where jobs are and provides useful information on how San Francisco innovates.
In addition to the startup map, during Innovation Month residents and business will be asked to participate by telling their stories on www.ImproveSF.com. This is an opportunity for the City to highlight that innovation extends into our neighborhoods by people and communities who collectively generate the entrepreneurial spirit that keeps our City vibrant.
Innovation Month events are open to the public, and include:
Thursday, 10/11
"Innovation Celebration": Official launch for Innovation Month
Westfield Mall, Under the Dome, 4th Floor
Friday, 10/12
Open Co. SF: Premier technology companies host curated salons that convene international executives from across technology, media, and public service organizations.
Federated Media Publishing, 72 Townsend Street
Saturday, 10/20
Urban Prototyping Festival: San Francisco Street Exposition
5th Street from Market to Howard Streets
For a full list of events, exclusive content and to learn more about October as Innovation Month, visit www.InnovateSF.com.