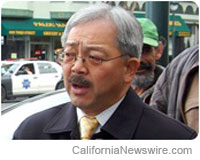 SACRAMENTO, Calif. /California Newswire/ — Today, S.F. Mayor Edwin M. Lee and Board of Supervisors President David Chiu announced plans for a new Apple Retail store on Union Square, to be located at 300 Post Street. The new store will employ nearly 400 employees, about 50 more than today, and will offer Apple's same popular services such as the Genius Bar, Personal Training and free workshops. This store joins two other stores in the City – Chestnut and Stonestown – and will be 45 percent larger than the existing Apple Store at 1 Stockton Street.
"Apple's new store is quite simply incredible," said Mayor Lee. "San Francisco is the Innovation Capital of the World, and I can think of no better location for the world's most stunning Apple Store than right here in Union Square. I want to thank Apple for their investment in this City and continued commitment to growing jobs in San Francisco."
"I'm excited that the company that revolutionized consumer technologies is moving to the heart of Union Square," said President Chiu. "The new Apple store will highlight technology and design innovation as well as build community at the center of our City's retail district."
The application and materials for the proposed new store were formally filed at the San Francisco Planning Department. The site is currently occupied by a Levi's store, which is anticipated to relocate later this year.