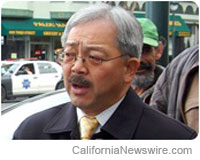 SAN FRANCISCO, Calif. /California Newswire/ — Mayor Edwin M. Lee today announced that San Francisco signed a Memorandum of Understanding at the 3rd Annual US-China Energy Efficiency Forum in Beijing, China with the Chinese government's top economic planning body, the National Development and Reform Commission (NDRC). San Francisco's signing partner for the MOU about sustainable development and energy efficiency is NDRC's National Energy Conservation Center (NECC). U.S. Ambassador Gary Locke, NDRC Vice Chairman Xie Zhenhua, and U.S. Department of Energy Acting Under-Secretary David Sandalow joined the MOU signing.
"This marks the first MOU between a Chinese central government entity and a U.S. city, demonstrating the importance San Francisco plays as a global leader in energy efficiency and sustainability," said Mayor Lee. "The agreement provides high-level Chinese central government support for cross-border investment into sustainable development projects and energy efficiency technologies, while also encouraging an increase in joint energy efficiency research and demonstration projects to support a more sustainable planet."
"We believe this historic MOU provides a unique opportunity for Chinese cities to learn from San Francisco and to more generally deepen ties between our two nations," said NECC Director General Li Yangzhe. "We couldn't be more pleased to sign the MOU with the City and Country of San Francisco."
ChinaSF initiated San Francisco's relationship with NDRC and NECC during the Bay Area's 2nd U.S.–China Energy Efficiency Forum last year. The U.S.–China Framework for the Ten-Year Cooperation on Energy and Environment, a collection of initiatives announced in 2009 by President Barack Obama and Chinese President Hu Jintao, resulted in both the MOU and the Forum.
"The energy efficiency and sustainable development industries are key for San Francisco and China's economic development. Establishing a bi-lateral agreement with China's central government around these themes is a major accomplishment for our City," said San Francisco Office Economic and Workforce Development (OEWD) Director Jennifer Matz, who led a delegation of San Francisco government and private sector leaders in energy conservation to the Beijing forum and signed the MOU on behalf of the City of San Francisco.
"This is a great honor and opportunity for San Francisco to share our insight with the most populated country in the world as they try and manage their energy demand," said San Francisco Department of Environment Director Melanie Nutter, whose office will implement the MOU for San Francisco with OEWD.
"ChinaSF congratulates all parties on this landmark achievement. We look forward to utilizing this unprecedented agreement to guide more Chinese investment and businesses into our City, state and country while also helping facilitate the exchange of best practices in energy conservation," said ChinaSF Executive Director Darlene Chiu Bryant.
About ChinaSF:
With offices in Beijing, Shanghai and San Francisco, ChinaSF is a public-private initiative of the San Francisco Center for Economic Development (SFCED) in close partnership with the San Francisco Office of Economic and Workforce Development (OEWD), supported by funding from private sector partners. Its goal is to attract and retain Chinese investment and business expansion into San Francisco and the Bay Area, and to also support regional businesses in their business efforts in China. For more information, go to: www.chinasf.org.