SAN DIEGO, Calif. /California Newswire/ — Edupoint(R) Educational Systems, creator of the industry-leading Synergy(R) Education Platform for K-12 student information and learning management, has been selected by Dehesa School District, Julian Union School District, and Calexico Unified School District to implement Synergy Online Registration through their partnership with the San Diego County Office of Education (SDCOE), augmenting the districts' existing Synergy solutions.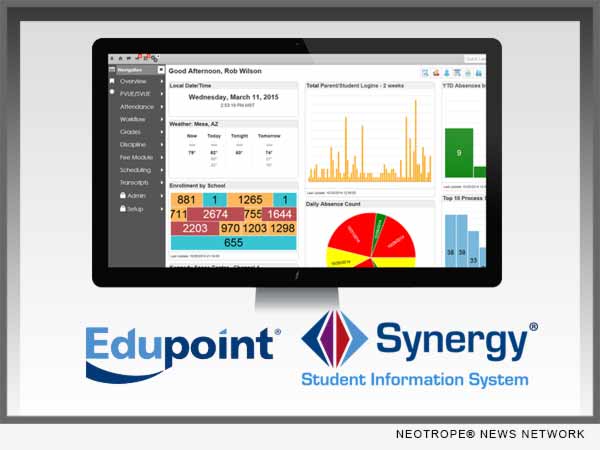 Ballington Academy for the Arts and Sciences, a charter school partnering with SDCOE, has also selected Synergy Online Registration. As a result, almost 15,000 students will join the more than 1.5 million students nationwide currently served by Synergy platform's online registration module.
Synergy Online Registration works seamlessly with other Synergy modules to streamline the school registration process for parents and district staff. The module's intuitive web interface can serve parents in more than 20 languages, making it easy for them to enter their child's information when and where they find it most convenient. This self-serve model eliminates not only the need for district staff to enter new student data, but also the cost and inconvenience of printing and distributing registration packets.
Synergy Online Registration provides a high degree of flexibility to match district business practices, enabling districts to collect user-defined data, add or hide screens, add instructions to screens, and more.
SDCOE manages the student information system for school districts and charter schools within San Diego and Imperial counties. These districts are successfully using Synergy with the support, training, hosting, and guidance provided by the SIS team at SDCOE.
"Synergy Online Registration is a great time-saver for both new student and re-enrollment processes for districts of all sizes," said Rob Wilson, President and Chief Innovation Officer at Edupoint. "Since the module's initial release in 2014, we have continued to add high-value features and functionality to better serve our client districts, and have seen a corresponding growth in its adoption. We are pleased that several of our SDCOE partner districts have chosen to add online registration and we look forward to sharing in their continued success with Synergy."
About Edupoint Educational Systems:
For over thirty years, the leadership of Edupoint Educational Systems has provided well-designed, technologically-advanced student data management systems that empower all K-12 stakeholders with the tools they need to improve student achievement. The fully-integrated Synergy(R) Education Platform includes Synergy(R) SIS, the most powerful K-12 student information system available today, Synergy(R) LMS, an all-in-one learning and assessment platform, and Synergy(R) SE, a comprehensive special education data management system. Thousands of schools nationwide choose the Synergy Education Platform to support more than 3.75 million students.
Learn more: http://www.Edupoint.com/.