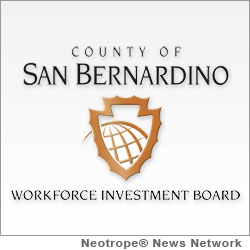 SAN BERNARDINO, Calif. /California Newswire/ — The San Bernardino County Workforce Investment Board will host, "Honoring Our Vets," job fair on National Flag Day, Thursday, June 14 from 3 to 8 p.m. at Mojave Narrows Regional Park, 18000 Yates Road in Victorville, Calif. There will be employment workshops, a barbeque and a honor guard celebration for veterans and their families. For a complete schedule of the day, please visit www.SBCountyVets.com.
Employers will be on hand to discuss job opportunities and may interview prospective candidates on site. Workshops will explain the latest resources available to San Bernardino County veterans. An honor guard celebration will follow, including dinner provided at no charge to the first 1,000 veterans.
"San Bernardino County has one of the largest veteran populations in the state and we hope this event sends a message of support," said Brad Mitzelfelt, Vice Chair and County of San Bernardino First District Supervisor. "We hope to see as many veterans as possible attend and find great opportunities."
The San Bernardino County Workforce Investment Board makes serving veterans a top priority. Its veteran portal – www.sbcountyvets.com – offers one location for information about job training, placement and services for veterans.
This event is designed to celebrate the return of our heroes and connect them with careers now that they are home. Workshop topics will include the future of green jobs, how to become an entrepreneur, supportive services and the county's career services for veterans.
"Employers who have hired veterans through our programs often report how impressed they are with the skills and training veterans bring to their companies," said Sandy Harmsen, Executive Director of the Workforce Investment Board and Director of Workforce Development for the County of San Bernardino. "Our county's brave men and women have done their part to serve this country, and it is our turn to connect them with the skills they need for successful careers."
The County of San Bernardino has three Employment Resource Centers located in Rancho Cucamonga, San Bernardino and Hesperia, the Workforce Investment Board that provides job training and placement services and resources to the men and women who served in the armed forces.
About the Workforce Investment Board of San Bernardino County:
The Workforce Investment Board of San Bernardino County is comprised of private business representatives and public partners appointed by the County Board of Supervisors. The Board strives to strengthen the skills of the County's workforce through partnerships with business, education and community-based organizations.
The Workforce Investment Board, through the County's Economic Development Agency and Workforce Development Department, operates the County's Employment Resource Centers (ERCs) and Business Resource Centers (BRCs). The ERCs provide individuals with job training, placement and the tools to strengthen their skills to achieve a higher quality of life. The BRCs support and provide services to the County's businesses including employee recruitment.
Copyright © 2012 CaliforniaNewswire® and Neotrope®. California Newswire is a publication of the Neotrope News Network and a U.S. reg. TM of Neotrope.