SAN FRANCISO, Calif. /California Newswire/ — S.F. Mayor Edwin M. Lee today issued the following statement regarding both State Senate and State Assembly in approving Senate Bill 3, authored by Senator Mark Leno, to raise California's minimum wage to $11 an hour in 2017 and increase it to $15 an hour by 2022: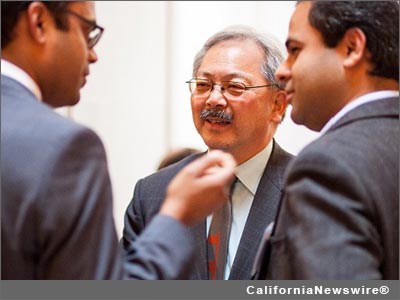 "California is leading the way for working families. Thank you to the leadership of the State Legislature particularly Senator Mark Leno, Senate President pro Tempore Kevin de León and Assembly Speaker Rendon. Thank you to the unrelenting commitment of Service Employees International Union-United Healthcare Workers West in pushing for the increase of California's minimum wage to $15 an hour.
I am proud to have co-chaired with Oakland Mayor Libby Schaaf a ballot initiative to address income inequality throughout the State. We know that raising the minimum wage is good for small businesses, good for our economy, and good for all Californians.
It is fitting that as we celebrate the legacy of César Chávez and the labor movement that he started, we are once again moving the movement forward by helping our lowest paid workers earn the wages they deserve. And, with an estimated 5.6 million workers – nearly one in three Statewide – poised to benefit from this necessary increase, we know the impact will be significant.
The bill is headed to the Governor's desk, and I know that our Governor is anxious to sign it as a matter of economic justice. Thank you, Governor Brown, for making history once again!"