SAN FRANCISCO, Calif. /California Newswire/ — San Francisco Mayor Edwin M. Lee on Thursday launched the Central Market Economic Strategy, the result of a 10-month public process that has resulted in a roadmap to stabilize, revitalize and transform Central Market. Enhanced safety services are one of the primary components of the Economic Strategy, which includes the City's new Central Market Community Safety Ambassadors Program.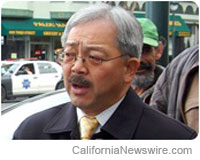 "We have an historic opportunity to leverage the energy and momentum that is building here to create an eclectic cultural arts, small business, entertainment and innovation economy hub in Central Market," said Mayor Lee. "The Central Market Economic Strategy is a roadmap to guide our efforts to create jobs, stabilize the community and improve the quality of life for area residents, businesses, workers, and visitors."
"The community has made it clear how important it is that stabilization strategies be linked to economic revitalization efforts in our district, and I'm very happy that the Mayor has committed to doing this," said District Six Supervisor Jane Kim.
The Central Market Economic Strategy builds on the growing momentum of revitalization efforts in Central Market as well as the outpouring of interest from the arts community, the technology sector, and neighborhood residents who have waited for years to see improvement in the area. The City's efforts to date include a payroll tax exclusion for new jobs in Central Market and the Tenderloin, a City commitment to a physical redesign of Market Street, a police substation on Sixth Street, and the attraction of a number of new small businesses and arts organizations to the area.
The Economic Strategy highlights priority activities determined by the many residents, merchants, nonprofit organizations, property owners, arts groups, and other community stakeholders who participated in the unprecedented community effort over the past ten months. The City's Office of Economic and Workforce Development worked with a team that included AECOM, Deborah Frieden Consulting, Northern California Community Loan Fund and a steering committee of neighborhood representatives and City departments. Community input was gathered through extensive surveys, interviews, focus groups, and community meetings.
The Economic Strategy includes an Action Plan with six objectives: Stabilize the existing community; Enhance and activate the public realm; Enhance the creative arts community; Reduce vacancies; Build community capacity; and Improve safety. Under each objective is a set of economic development strategies and action items for implementation, along with an indication of 'lead implementers' and 'partner agencies' that include both City departments and private sector partners. The Economic Strategy will be implemented by accessing a range of funding sources, which may include tax increment financing, philanthropy, and social investors in addition to City, State and Federal funding.
As part of the City's effort to improve public safety, the Office of Civic Engagement and Immigrant Affairs has launched a team of community safety ambassadors that will add a visible safety presence in the transit corridor area between Van Ness Avenue and Powell Street. A team of 10 ambassadors, working in pairs, will patrol Market Street to provide escorts to and from public transit stops and focus on cleanliness and safety issues between the hours of 11am and 8pm. These services will build on the existing work of the Central Market, North of Market/Tenderloin, and new Civic Center Community Benefit Districts to improve the public realm.
The Mayor will join the City's new Central Market Community Safety Ambassadors for their inaugural walk down Market Street visiting small businesses and merchants as a first step toward implementing the Central Market Economic Strategy.
To read the Central Market Economic Strategy, go to: www.centralmarketpartnership.org .
Mayor Lee also announced today Dottie's True Blue Cafe will be moving from its Jones Street location to a larger space on Sixth Street near Market Street, creating 9 additional jobs in the neighborhood. Two other locally-owned businesses, Philz Coffee and Farm:Table, will also be moving to Central Market.