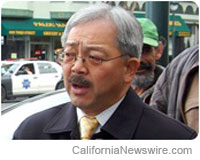 SAN FRANCISCO, Calif. /California Newswire/ — On Monday, S.F. Mayor Edwin M. Lee, as Chair of the first U.S. Conference of Mayors (USCM) Technology and Innovation Task Force, announced the Open Government Innovation Partnership – a call to action to help cities advance and prioritize innovation to drive job growth, economic development, improved efficiency and collaboration.
The USCM Technology and Innovation Task Force will be asking Mayors to join the partnership as active and committed partners to help build an ecosystem that will help cities advance and prioritize innovation to improve government.
"This is a time for cities to confront challenges by taking risks and embracing innovation," said Mayor Lee. "In San Francisco, we are using technology and innovation to improve city services that impact our everyday lives, from transportation to education to civic engagement."
The USCM Open Government Innovation Partnership will:
•Strengthen and increase civic use of innovation, cross-collaboration and improved accountability through open government initiatives;
•Showcase the leadership of cities highlighting innovation and creative best practices to increase opportunities for collaboration with the private sector;
•Secure commitments that will make city governments more efficient, effective, and responsive by embracing the use of open government innovation; and
•Empower private sector organizations to partner with government to make services more efficient, effective, and responsive to residents.
The action plans promote transparency, support a marketplace for entrepreneurship, energize civic engagement and collaboration, and leverage new technologies.
Last week, Mayor Lee hosted a forum recognizing the critical role that technology and innovation play in cities by sharing best practices to enable innovation at the 80th Annual Meeting of the U.S. Conference of Mayors in Orlando, Florida. The forum included former White House Chief Technology Officer Aneesh Chopra, White House Deputy Chief Technology Officer and former San Francisco Chief Information Officer Chris Vein and Code for America Executive Director Jen Pahlka.
The USCM Technology and Innovation Task Force also passed a resolution to support open government and the release of data at all levels of government to spur entrepreneurship, foster economic growth and create jobs. The mayors resolved to work closely with Congress and the Obama Administration to expand funding to support initiatives that direct resources to harness the capability of local economies nationwide in developing regional industry, innovation and export clusters.