SAN FRANCISCO, Calif. /California Newswire/ — This past week, S.F. Mayor Edwin M. Lee announced the launch of the "Homeless Emergency Assessment & Response Team"(HEART), a partnership between the San Francisco Fire Department and the Department of Public Health that dedicates emergency and public health experts to respond to 911 calls from people in the community who rely on the emergency response system for their non-emergency medical, social and psychological needs. The new City program provides specialized support and case management in the field to frequent users of the 911 system.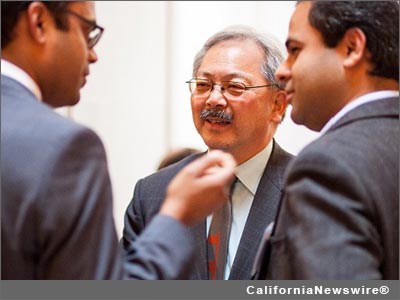 "San Francisco is known for providing world class health services to people in need and the new HEART program will help us make sure residents get connected with the care they need and deserve," said Mayor Lee. "This is a smart deployment of emergency services and with our Fire Department and Public Health professionals working side by side, we expect to see a better, coordinated response on our streets and better results for people who need our help."
The HEART team consists of two members – a Fire Department Paramedic Captain and a Health Department outreach specialist from the Homeless Outreach Team (HOT). The team is based at Station 49, at 1415 Evans Street and will be dispatched throughout the City. HEART also known as EMS-6 will respond in a SFFD paramedic supervisor vehicle equipped with lights, sirens and first response equipment. The annual budget for this program including staffing and equipment is approximately $765,000.
"I am pleased to announce the implementation of this initiative," said Fire Chief Joanne Hayes-White. "This collaboration between the San Francisco Fire Department and Department of Public Health will provide non-emergency services to vulnerable people who rely on 911 for their health, social and psychological need to better serve the needs of this population."
Emergency responders and the 911 system are dedicated to provide assistance to all. The emergency care system is also the "safety net" point of access for many who suffer from difficult chronic medical, social and psychological conditions. For some, these situations might not be considered an emergency. But for marginalized individuals who experience disparities in health care access, the 911 emergency medical system may be the only way they know to get help.
"The overall goal is to improve the health and stability of vulnerable individuals who depend on the 911 system and connect them with long-term social, psychological and medical resources," said Health Director Barbara Garcia.
The new team will perform an assessment in the field and with the help of a multidisciplinary team of social workers, nurses and physicians from HOT create a care plan that will both address the immediate needs of the client and help to prevent future emergencies. Through increased collaboration across departments, HEART enhances the City's capacity to respond to the needs of some of its most vulnerable residents, and potentially decreases costs related to unnecessary emergency room visits in the long run.
HEART will be available from noon to midnight, seven days a week, the high-volume call time, and will respond to calls by Fire Department engines, ambulances and clinics if they encounter known frequent users of the 911 system. The team will also monitor the radio and computer aided dispatch system in order to respond to calls. The HOT specialist will perform additional outreach to known 911 high-user clients.