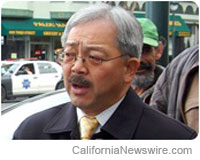 SAN FRANCISCO, Calif. /California Newswire/ — This week, Mayor Edwin M. Lee delivered his 2013 "State of the City" Address at College Track, a community-based organization in the City's Bayview that prepares San Francisco youth for college. Joined by civic, labor, business and community leaders, Mayor Lee outlined his vision for San Francisco's continuing recovery and success with investments in job creation, workforce development, housing, transportation and education in his first State of the City Address.
"The State of our great City is vital, resurgent and strong," said Mayor Lee. "We invested in job creation, workforce development and we made tough choices on everything from pensions to budget tradeoffs. And, we did this the San Francisco way, through consensus and collaboration. We put the people's interests ahead of City Hall politics and, as a result, we are stronger. We are also stronger because of the creativity and perseverance of our people, because of the fiscally responsible path we have taken; and by embracing innovation and new ideas that have, in turn, attracted new jobs and new investment in every neighborhood of our City."
Mayor Lee's State of the City included:
• San Francisco is once again a job-engine for the region and the State, creating more than 26,000 new jobs between June 2011 and June 2012;
• Unemployment rate is at 6.5 percent, a more than three percent drop over two years, which equates to 31,000 San Franciscans back to work;
• Tourism and business travel remain San Francisco's number one industry, attracting 16 million visitors who spend $8.4 billion annually with a record 44.5 million passengers passing through San Francisco International Airport in 2012, up 8.6 percent from last year;
• The City is home to more than 1,800 tech companies with 42,000 employees, up 50 percent since Mayor Lee took office;
• Small business and local manufacturing sectors are growing;
• Results from Mayor Lee's Invest in Neighborhoods initiative that supports small businesses;
• Results from the Mayor's effort to reform the City's business tax structure by replacing a job punishing tax system to one that is more fair and transparent and includes new revenue for housing, infrastructure, small business and economic development;
• Progress on infrastructure projects from San Francisco General Obligation bonds for parks and playgrounds; street paving; retrofits to fire stations and the emergency water supply system; the rebuild of San Francisco General Hospital; and the City's Branch Library Improvement Program;
• Progress on the Transit Center District Plan – approved in September and anchored by the new Transbay Center – which will provide 27,000 jobs, more than 4,000 homes, 1,000 hotel rooms, and 12 acres of open space, with the Transit Tower, the tallest building west of the Mississippi, at its centerpiece; and
• Status of waterfront projects, including mixed use developments at Seawall lot 337 and Pier 70 and Pier 30-32 that in less than five years will be the home of the Golden State Warriors and the new Exploratorium that will open on Pier 15.
HOUSING
Last year, voters approved a tool to replace Redevelopment funding with a Housing Trust Fund, a $1.5 billion stream of funding over the next 30 years to re-envision housing for people of all incomes in San Francisco including first-time homebuyer assistance for families and first-responders.
In addition to implementing the Housing Trust Fund, Mayor Lee announced his intention to fundamentally re-envision the manner in which government provides housing to its lowest-income residents. Mayor Lee tasked City Administrator Naomi Kelly and Mayor's Office of Housing Director Olson Lee to partner directly with U.S. Housing and Urban Development and San Francisco Housing Authority staff to develop a set of recommendations by July 1st to provide comprehensive recommendations to re-invent the governance and management of public housing, up to and including replacing the Housing Authority with a new model – a model that relies on public-private partnerships and builds on the Housing Trust Fund and HOPE SF.
TRANSPORTATION
Planning, building and maintaining a reliable public transportation system are among the City's most critical challenges. Mayor Lee announced that he will convene a San Francisco Transportation 2030 Task Force that will include regional transportation agencies, key stakeholders and the technology community to develop a comprehensive roadmap and coordinated set of priorities and actionable recommendations to maintain the condition of the City's streets and make Muni and other transportation systems more reliable.
EDUCATION
Because of reforms and renewed partnerships, the San Francisco Unified School District is continuing its progress, as evidenced by its ranking as one of the highest performing urban school districts in the State with test scores at an all-time high, truancy down, and graduation rates up. Progress includes double digit performance gains by African-American and Latino students over the last five years.
Mayor Lee announced that he will propose nearly $50 million for public schools and an annual $25 million for universal pre-school, more resources provided by the City than at any other time in San Francisco history.