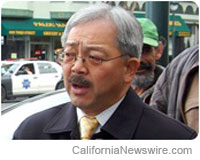 SAN FRANCISCO, Calif. /California Newswire/ — S.F. Mayor Edwin M. Lee on Tuesday appointed Rodrigo Santos to the City College Board of Trustees, filling the vacancy left by the passing of Milton Marks III.
"Rodrigo Santos is my appointment to the City College Board of Trustees because he will be a strong leader and a reformer at a critical time in City College's history," said Mayor Lee. "Rodrigo shares my values in creating real opportunities for San Francisco residents so that they can succeed in the workforce of tomorrow. He is a voice for our students and will help restore financial accountability and good governance to City College."
Rodrigo Santos is a professional engineer who for nearly twenty-five years, started and grew Santos & Urrutia, a small engineering partnership founded in 1988, to one of most successful structural engineering firms in the Bay Area. Santos came to the United States from Ecuador to study engineering and has developed mixed-use spaces, office complexes, apartment buildings and hotels.
In 2000, Mayor Willie Brown appointed Santos to the San Francisco Building Inspection Commission, serving in the structural engineering seat. In 2004, under Mayor Gavin Newsom, Santos served as President of the Building Inspection Commission. He currently serves on the Workforce Investment Board, which partners with the Office of Economic and Workforce Development to provide business, labor, education, government, community-based organizations and other stakeholders an opportunity to work together to make sure a trained workforce is available to address the demands of several sectors in San Francisco.
Long time Noe Valley resident, Santos is active in community service projects throughout the City as a pro-bono structural engineer to many of San Francisco's non-profit development projects.
Santos holds both a Bachelor's degree and a Master's degree in Civil Engineering from Stanford University, and is a licensed Structural Engineer in California.
Mayor Lee made the appointment amid serious challenges that the current Board of Trustees and the Interim Chancellor must resolve, including addressing 14 recommendations that the Accreditation Committee for Community and Junior Colleges has set forth for the college. Mayor Lee made high level City staff members available to City College to provide fiscal and management support, including City Controller Ben Rosenfield, Mayor's Budget Director Kate Howard, Department of Human Resources Director Micki Callahan and Public Finance Director Nadia Sesay. Mayor's Education Advisor Hydra Mendoza will continue to serve as Mayor Lee's liaison to City College.
Many of economic sectors that power San Francisco – especially health care, hospitality, and biotech – have come to depend on City College for their workforces because of the training the College offers.
About City College:
City College of San Francisco is an urban community college serving about 90,000 students annually at nine campuses and many other sites throughout San Francisco. The college offers an affordable opportunity to earn associate degrees, prepare for transfer, and pursue career and technical education.