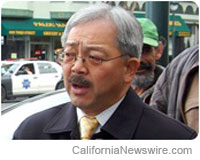 SAN FRANCISCO, Calif. /California Newswire/ — S.F. Mayor Edwin M. Lee today announced that four new businesses have signed leases in the Central Market neighborhood, including digital music service Spotify, which has signed a lease for 13,500 square feet of office space in the Warfield Building on Market Street.
Three other businesses are joining Spotify and moving to Central Market: Apex, Holy Stitch! and Phantom Coast Gastropub and Brewery.
"Spotify is innovating how we listen to music, and I am thrilled to welcome them as the eleventh technology company to choose a Central Market location," said Mayor Lee. "And I am just as thrilled that the new employers arriving on Market Street are being joined by vibrant new small businesses and arts establishments that will be our long-term partners as we revitalize the Central Market and Tenderloin."
Spotify is moving from a co-working space in the Financial District to fill three floors of the Warfield building, bringing the long empty building close to full occupancy. Finding a permanent home in San Francisco's Central Market neighborhood, Spotify now has space to aggressively grow.
"Spotify is both a technology and a music company so the Central Market location and association with the Warfield theater were a perfect fit for us," Spotify VP of Strategic Partnerships Tom Hsieh. "We are proud to be a part of the City's plan to revitalize and reinvigorate this historic section of San Francisco."
With assistance from City-funded services to attract and stabilize existing arts organizations and small businesses in the Central Market and Tenderloin, Apex and Holy Stitch! signed a five-year lease for a co working art studio and boutique, respectively, with property owner Tenderloin Neighborhood Development Center at 42 Turk Street. The new location will allow both Apex and Holy Stitch! to remain in Central Market.
Phantom Coast Gastropub and Brewery leased 5,000 square feet at the corner of Turk and Taylor streets. Their lease includes the rehabilitation of four storefronts for Phantom Coast and creates 20 jobs in the Tenderloin. Phantom Coast will apply for façade renovations through the City's SF Shines Program.
These new businesses will join other small businesses recently opened on Taylor Street including the Center for New Music and WeWork as the City continues its efforts to fill vacancies, stimulate development and create sustainable arts facilities in the Tenderloin.
These four new leases underscore the transformative effects of the City's Central Market Strategy which includes: the Central Market Tenderloin Payroll Expense Tax Exclusion, programs to recruit and retain arts groups and small businesses, leasing assistance and financial planning assistance to small businesses and arts organizations by City partners Urban Solutions and Northern California Community Loan Fund, the SF Shines façade and tenant improvement program and the Small Business Revolving Loan Fund.
"I am thrilled to see this part of the Tenderloin grow more vibrant with small businesses and arts organizations putting down roots alongside larger anchor tenants," said Supervisor Jane Kim, who has been working closely with Mayor Lee to champion stabilization efforts within the larger Central Market plan. "Creative small business leaders like Julian Dash at Holy Stitch and Ricardo Richey of APEX play a vital role in engaging the neighborhood on many levels by creating local apprenticeships and jobs in design/manufacturing apparel and fostering homegrown arts and production."
About Spotify
Spotify is an award-winning digital music service that gives you on-demand access to over 20 million tracks. Spotify's dream is to make all the world's music available instantly to everyone, wherever and whenever they want it. Spotify makes it easier than ever to discover, manage and share music with your friends, while making sure that artists get a fair deal. Spotify have more than 24 million active users, and over 6 million paying subscribers. For more information, go to: www.spotify.com.
About Apex
Apex, also known as Ricardo Richey, is a street artist who creates colorful abstract patterns through the use of spray paint. Part of the Gestalt Collective that engages in collaborative murals in San Francisco, Apex curated mural projects on Bluxome Alley, other districts of San Francisco, and the SFMOMA display windows in association with St. Johns Community Center. His work has been shown extensively both in the Bay Area and abroad. Recent group exhibitions include Calligraffiti: Writing in Contemporary Chinese and Latino Art, Pacific Asia Museum, Bay Area Now 4, White Walls, and the Luggage Store Gallery. He was the artist in residence at the Headlands Center for the Arts, and was featured in documentaries and publications regarding the Mission District in San Francisco.
About Holy Stitch!
Holy Stitch! Denim Social Club teaches the youth to be Social Entrepreneurs via the sewing machine, clothing, music and the arts. Their goal is to control the means of our clothing from seed to retail while inspiring the masses and employing the youth every step of the way. For a fact, to gain access to real life experience in the industries is something that the "fashion" schools do not provide. Holy Stitch! serves as an alternative to pre, post and current students.
About SF Shines
SF Shines invests in commercial corridors through façade improvements which include grants, design services, and project management. The goal of SF Shines is to increase economic vitality along the City's diverse commercial corridors, attract new businesses, and provide support to existing businesses. For more information, go to: http://www.oewd.org/SF-Shines.aspx.