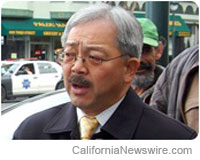 SAN FRANCISCO, Calif. /California Newswire/ — On Monday, Mayor Edwin M. Lee announced the opening of the Bayer HealthCare CoLaborator, an innovative shared lab for start-up life science companies in Mission Bay. Mayor Lee also announced two new biotech startups are relocating to San Francisco to be the first companies to locate in the CoLaborator: Aronora Inc. from Oregon, and ProLynx LLC from Hayward.
"I am thrilled to announce the opening of the CoLaborator that has already attracted two new life science companies to San Francisco, the Innovation Capital of the World," said Mayor Ed Lee. "The CoLaborator will encourage the growth of innovative research companies and support startups that will be developing groundbreaking medical treatments, Mission Bay continues to grow as a hub of innovation, and Bayer's leadership has strengthened this critical growth."
The 6,000 square foot CoLaborator is located next to Bayer HealthCare's U.S. Innovation Center, which moved to Mission Bay in 2011. Bayer moved to San Francisco in part to expand its collaborative relationships with academic and life sciences firms in California. Bayer's "U.S. Science Hub" identifies and facilitates collaborations for the company.
"The CoLaborator seeks to address the need for new approaches to research partnerships that allow for a collaborative process with shared risks and rewards," said Christopher Haskell, Head of the U.S. Science Hub at Bayer HealthCare. "We are aiming to create something beyond the traditional incubator that truly fosters collaboration between Bayer scientists and these exciting young companies."
The CoLaborator life sciences hub will work with technology platforms, drug targets and drug candidates that align with Bayer's research strategy. The first CoLaborator companies include Aronora Inc., a company that develops proprietary antithrombotic therapeutics, and ProLynx LLC, a technology platform company developing systems to enable predictable and controllable half-life extension of drugs.
"The CoLaborator is an ideal venue for Aronora to pursue our goals and continue to grow," said Aronora CEO Andras Gruber. "It's an opportunity to work physically close to Bayer scientists and access to support in preclinical product development, manufacturing and other areas are of particular interest to our company."
"We look forward to relocating ProLynx to Mission Bay," said ProLynx President and Founder Daniel Santi, M.D., Ph.D. "The close proximity to scientists at Bayer and the University of California San Francisco provides a truly exciting collaborative environment for advancing and applying our technology."
About Mission Bay:
Designed from the ground-up as a premier center for science and innovation, Mission Bay is a 303-acre mixed-use, transit oriented, and sustainable redevelopment project area. Mission Bay is anchored by a number of leading research institutions including UCSF's Mission Bay Campus and Medical Center, the California Institute for Quantitative Biosciences (QB3), the Gladstone Institutes and the California Institute for Regenerative Medicine (CIRM). Mission Bay is home to more than 40 life sciences companies with more than 110 life sciences companies citywide. Companies located in Mission Bay include FibroGen, Nektar, Celgene, and Pfizer. There are now four life sciences incubators located in Mission Bay. The first phase of the UCSF Medical Center at Mission Bay is under construction and will include a 289-bed complex featuring three separate hospitals specializing in serving children, women, and cancer patients.
At full build out, Mission Bay will accommodate over 6,000 units of housing (30 percent affordable), 4.4 million square feet of office and R&D space, a 43-acre UCSF research campus and 550-bed medical center, 500,000 square feet of retail, a 500 room hotel, 49 acres of new public open space, a new 500-student public school, a new public library, a new fire and police stations and other community facilities.
About Bayer HealthCare:
The Bayer Group is a global enterprise with core competencies in the fields of health care, agriculture and high-tech materials. Bayer HealthCare, a subgroup of Bayer AG with annual sales of EUR 17.2 billion (2011), is one of the world's leading, innovative companies in the healthcare and medical products industry and is based in Leverkusen, Germany. The company combines the global activities of the Animal Health, Consumer Care, Medical Care and Pharmaceuticals divisions. Bayer HealthCare's aim is to discover, develop, manufacture and market products that will improve human and animal health worldwide. Bayer HealthCare has a global workforce of 55,700 employees (Dec 31, 2011) and is represented in more than 100 countries. For more information, go to: www.healthcare.bayer.com.
About Aronora, Inc.:
Aronora is developing products intended to be used in difficult-to-treat, severe, rapidly progressing, or catastrophic thrombotic blood clotting diseases, including suspected or verified stroke, heart attack, pulmonary embolism, severe infections, and others. Building on the company's ground-breaking approaches to superior drug safety, Aronora's product candidates have the potential to become first-in-class medical emergency therapeutics to treat acute thrombotic diseases.
About ProLynx LLC:
ProLynx LLC, founded in 2009, is developing a technology platform that overcomes major limitations of releasable linkers currently used in drug conjugation. The technology uses sets of novel linkers that cleave at different, pre-programmed rates to allow the controlled, predictable and sustained release of native, active drugs – peptides, proteins and small molecules – from circulating and fixed macromolecular conjugates.