SAN FRANCISCO, Calif. /California Newswire/ — On Friday, San Francisco Mayor Edwin M. Lee announced that Salesforce.com is again expanding and creating more jobs in San Francisco, entering into the largest long-term lease in the City in more than a decade. Salesforce will occupy 400,000 square feet of office space at 50 Fremont, which when fully occupied, will accommodate 2,000 employees.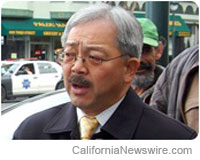 The new 400,000 square foot lease will expand salesforce.com's downtown San Francisco campus by approximately 50 percent. The expansion is in addition to salesforce.com's 2010 purchase of 14 acres in Mission Bay for the company's Mission Bay campus.
"Salesforce.com's decision to continue their expansion in San Francisco is positive proof that our City and its workforce are perfect for growing technology and innovation companies," said Mayor Lee. "I look forward to watching salesforce.com's continued success as we work together to continue to create jobs right here in San Francisco."
"We're thrilled to announce a major expansion to our downtown San Francisco campus," said salesforce.com Chief Operating Officer George Hu. "This expansion is critical to fuel salesforce.com's ongoing growth and ability to attract the best talent in the industry. We are grateful to Mayor Lee and his team for their support in ensuring that we can continue to thrive in this world-class city."
Today's announcement coincides with the release of year end numbers by real estate firm Jones, Lang, LaSalle reporting that 2011 saw 3.3 million square feet of office spaced leased by technology companies in San Francisco. This represents 35 percent of the 9.5 million square feet of office spaced leased in San Francisco in 2011. According to Jones, Lang, LaSalle, the City saw 1.8 million square feet of net absorption in 2011 – the highest positive net since 1988. The City's 2011 year end office vacancy rate was 14.6 percent, down from 17.1 percent in 2010.
The implementation of Mayor Lee's Start Here, Grow Here, Stay Here economic strategy and the Mayor's leadership in partnering with the Board of Supervisors on the Central Market Payroll Tax Exclusion and Stock Option Payroll Tax Reform has made San Francisco a more competitive environment to attract, retain and grow the tech industry.