SAN FRANCISCO, Calif. /California Newswire/ — Calif. Mayor Edwin M. Lee on Tuesday announced that the U.S. Housing and Urban Development (HUD) has awarded San Francisco $25.6 million in HUD's Continuum of Care grants to fund 60 San Francisco-based organizations and a variety of housing and services including transitional and permanent supportive housing, rapid re-housing, street outreach, client assessment, and other services for families, victims of domestic violence, youth, and homeless veterans.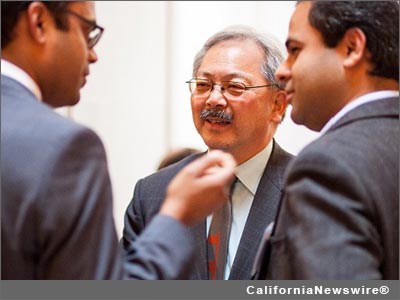 "These HUD grants help us serve the most vulnerable in our City," said Mayor Lee. "By linking those who are homeless, including veterans and families, to housing, employment, and services, we are making sure that everyone can share in the success of our City. We know we are moving in the right direction, by creating affordable and service-intensive permanent housing. With our strong economic foundation, we have a special opportunity to change this City for the better and continue to make progress in ending chronic homelessness."
The HUD Continuum of Care funding supports 1,618 units of permanent supportive housing, six transitional housing programs, two rental subsidy programs, and job training and other services for San Francisco's homeless and formerly homeless. The grant award funds 138 new supportive housing units for the chronically homeless. These grants fund two new projects: the Baldwin in the South of Market neighborhood that will serve approximately 130 chronically homeless adults without children with permanent supportive housing and Richardson Hall in the Hayes Valley neighborhood that will serve eight chronically homeless seniors with disabling HIV/AIDS.
U.S. HUD Secretary Julián Castro awarded $1.8 billion in grants to help nearly 8,400 local homeless housing and service programs across the United States. The Continuum of Care grants support the Obama Administration's efforts to end homelessness by providing critically needed housing and support services to individuals and families experiencing homelessness across the country. HUD is continuing to challenge local communities to reexamine their response to homelessness and give greater weight to proven strategies, including rapid re-housing for homeless families with children, permanent supportive housing for those experiencing chronic homelessness, and implementation of a Housing First approach. For a full list of all the HUD Continuum of Care grants, go to: https://www.hudexchange.info/onecpd/assets/File/2014-california-coc-grants.pdf.
Mayor Lee in his State of the City Address outlined a directive on homelessness for San Francisco in the coming year. In addition to implementing Laura's Law for the most severely mentally ill, Mayor Lee will bring a stepped-up commitment on homelessness with up to 500 new transitional housing units, and a focus on mobile medicine for those still living on the streets. San Francisco is opening up a first-of-its-kind Navigation Center to better move people off the streets and into housing, and will be the first City in America to end chronic homelessness for veterans. Working with Supervisors David Campos and Scott Wiener, San Francisco will fully fund a special shelter for LGBT homeless population.