LOS ANGELES, Calif. — With recent comments from U.S. National Intelligence Director John Negroponte that ailing Cuban leader Fidel Castro's days "seem to be numbered," and discussion in congress of opening travel to Havana, interest in pre-Communist Cuba and Cuban Diaspora issues have caused unprecedented interest in books about Cuba and Cuban Americans. Indeed, a quick Internet search will find an extraordinary 65,396 books currently available about Cuba. The best among them may be the new historical novel, Broken Paradise (ISBN-13: 978-0-7432-8779-1), by Cecilia Samartin.
Broken Paradise takes an uncompromising and compassionate look at how politics can divide friends and families. Rooted in the author's actual experience, it is an insider's view of a culture that is fading with her parents' generation.
In the absence of institutional memory, this work is an achievement that captures the heart of a culture that history books simply do not have the capacity to communicate. Broken Paradise (Atria, 2007) follows the path and friendship of two Cuban girls who are separated when one family leaves for the U.S. because of the policies of the Castro government.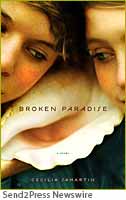 The novel also has a compelling celebration of the Afro-Cuban experience woven through the relationships of the characters that is simultaneously surprising and dear. The pacing, passion and vivid descriptions give the story a cinematic quality, while the intimacy of the characters makes the book feel familiar.
Born in revolutionary Havana in 1961, Ms. Samartin arrived with her parents as a refugee to the United States while still very young. Unlike many Cuban emigres, she grew up on the west coast where many people often assumed she was a Mexican girl because of her Spanish-language skills. This unique perspective has created an atmosphere and awareness for her characters rarely seen in first novels.
Initial reviews have been overwhelmingly positive and Barnes & Noble has picked the work to be part of their "Discover Great New Writers" in May. Amazon has started pairing the novel with works by Andy Garcia – a great compliment for a novelist's first work – and www.LatinoLA.com even suggested that the literary torch may be passing from Isabel Allende to Samartin for a new generation of Latinos.
Discover more about Ms. Samartin at her website: www.CeciliaSamartin.com.
Book Summary:
Broken Paradise, by Cecilia Samartin
Atria, February 2007
Hardcover, 352 pages
ISBN-10: 0-7432-8779-7
ISBN-13: 978-0-7432-8779-1
[tags]Broken Paradise, Cecilia Samartin, Cuban Diaspora, Latino interests, historical novel, pre-Communist Cuba[/tags]