HOLLYWOOD — Though they didn't wear Speedos like Michael Phelps, the band Starving For Gravity brought home the gold and won the LAMN Jam Grand Slam Rock Artist of the Year title. The Los Angeles Music Network competition – held during June, July and August – was Olympic in proportion, and SFG beat out hundreds of competitors. The band got these remarks from top-tier talent judges: "Extremely impressed!" "I liked you guys a lot." I could hear this on the radio!" "A lot of mainstream crossover appeal."
Speaking of starving, lead singer Lucas took a talent judge's advice from Round #1 and lost over 14 pounds since June. He looked great!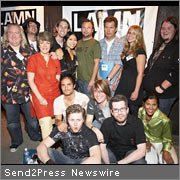 Starving For Gravity Receives Career Launch Package
SFG wins a prize package (valued at almost $12,000) which includes radio airplay the band will receive on top Los Angeles rock station 98.7-FM's Morning Show "Ozolocal Lounge on 98.7" and everything a band needs to launch its career. Also included: the option to sign winning songs to Red Queen Music for commercial exploitation in film and TV; personal consultation in performance, songwriting, marketing and business plan development; a press release distribution package and eMediaKit(TM) from Send2Press(R); a professional photo session, resources and gear, and more. For hard-working artists with ambition and talent like SFG, these tools will speed them on their way.
Judges at the finale included one of rock music's greatest A&R men, Tom Zutaut of Stereo Pristine Records, formerly an A&R exec at Geffen Records. Zutaut signed the most successful rock bands of recent decades including Motley Crue, Guns N Roses, Dokken and others. He once had six of the top ten Billboard albums at once: three Guns N Roses albums, Edie Brickell, Enya and Tesla. Artists he signed and developed have sold over 450 million units worldwide. Also judging talent were 98.7-FM's Local Music Director Darren Rose, VP of Programming for Emmis Radio Properties and Program Director of Power 106-FM Jimmy Steal, and Virgin Megastore Product Manager Bob Bell.
About Starving For Gravity
Since their LAMN Jam performance in June, SFG now receives regular spins on Gary Garver's L.A. Talk Radio show (Garver is the Howard Stern Show's entertainment reporter). SFG beat out thousands of other bands to headline the Rock Against Diabetes show on August 22 & 23 in Las Vegas. They have also been invited to perform at the Temecula Valley International Film & Music Festival in September.
Artists Make Connections at LAMN Jams
As a result of her July LAMN Jam performance, Anine "The Norwegian Sensation" was featured by Norwegian publication Seher and got thousands of hits to her MySpace page. Thanks to impressing talent judge Tom Zutaut at the finale, she now has an opportunity to record her next album with Slash, her dream come true.
At their July performance, Suicide Holiday impressed talent judge Jan Linder-Koda who personally introduced them to Director of Fox Music Sports, Jerry Davis. The band's high-energy, hard-hitting tunes are a perfect fit for the channel. The band also won a consultation with online music marketing expert Jason Feinberg who has put their marketing campaign on track.
Impel was picked up by management following their performance. The band had broken up days before receiving the call that they had been selected to perform at a LAMN Jam. Quickly patching it up, Impel went on to win Round #1 of the Rock Music LAMN Jam in June and is going on to great things.
Future LAMN Jams
Due to an overwhelming number of entries, LAMN will schedule another LAMN Jam Contest in 2009. Subscribe free to receive bulletins at www.lamn.com or call 818-769-6095 now to be kept up-to-date.
We Love Our Sponsors
LAMN Jam sponsors include 98.7-FM, Power 106-FM, Heroin Diaries / Ovation Guitars, DDrums, Paiste America, Angel Diva Music, Red Queen Music, Home Recording Boot Camp, Justin Winokur Photography, Music Connection Magazine, On / Off Records, Onlinegigs.com, Optic Noise Music Licensing, Send2Press.com (a division of Neotrope), Propellerheads, Skinny's Lounge, Taxi.com, Tunecore.com, Music Business Registries, Veneto West Studios and What Is Indie?
About LAMN
Now in its 20th year, the Los Angeles Music Network (LAMN), promotes education, career advancement and good will among artists. LAMN Jams give talented artists a platform to perform original material for music industry experts. These contests foster artistry and talent development, enable professional introductions and deals that advance artist careers. More info: http://www.lamn.com.
[tags]band Starving For Gravity, LAMN Jam Grand Slam Rock Artist of the Year, the Los Angeles Music Network, Caleb Fritel, Brad Kovar, Brett Lindenberg, Lucas Holter, Tess Taylor[/tags]