IRVINE, Calif. — Former Tustin High School football star Ricky Miller, announced Wednesday that he has accepted an invitation to play in the upcoming college all star game "Texas vs. The Nation." Bert Briones, Miller's agent and president of Hip Athletics, reports that the selection committee was pleased to add Miller to the roster. "The size-speed combination Ricky has makes him an intriguing linebacker prospect to NFL experts," Briones said.
Several potential early round NFL draft picks have also accepted invitations to play and Miller will face top competition in this game, including former Florida Gators defensive tackle Marcus Thomas. Thomas will be joined by fellow Gators senior defensive lineman Joe Cohen. They will join other highly-rated prospects like Miami, FL wide receiver Ryan Moore, LSU running back Justin Vincent, Missouri defensive lineman Xzavie Jackson, and James Madison quarterback Justin Rascati on a Nation roster that will face Texas' best.
The Texas team features mostly players who played their high school or collegiate football in the state of Texas. However, Miller has been placed on the Texas team because he played in 2006 at nearby Arkansas-Montecello. Prior to that Miller played for Fresno State where he accepted a scholarship to directly out of Tustin High. Miller was highly recruited as a prep star by a number of Pac-10 and Big-12 schools.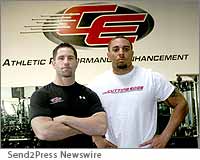 Miller is currently training in Lake Forest, California with Todd Norman of the Cutting Edge. Mr. Norman reports Miller has exhibited an extraordinary work ethic which has produced very positive results thus far in the NFL Combine Preparatory program. Miller has been training for the past month with Norman as well as Phil Parker, the developer of the "Hip Concept."
The Hip Concept teaches player to maximize the use of leverage and positioning. The training took one player from an undrafted free agent to a starter with the San Diego Chargers in only two years "I have the best trainers in America and I am ready," says Miller. He will be reporting to the all star game on Sunday at 253 pounds standing 6-3.
Miller has also been working with Coach Bill Cunerty who founded the West Coast Passing School in 1983, along with Mike Holmgren and Jim Fassel. Cunerty also coached the football team at Saddleback College for many years. Cunerty reports that Miller, whom he watched play in high school, has excellent athletic tools for a large linebacker including great hands.
The Texas vs. The Nation Game will be played at the Sun Bowl in El Paso Texas. The game will be nationally televised Friday, February 2, 2007 at 8pm MST on CSTV.
[tags]Hip Athletics Irvine, Bert Briones, Coach Bill Cunerty, Irvine California news[/tags]