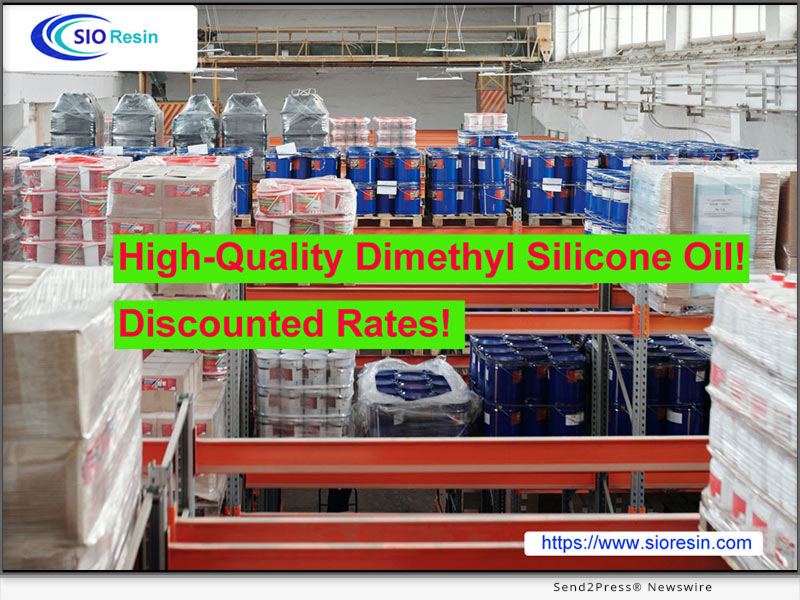 NEW YORK, N.Y., Aug 01, 2023 (SEND2PRESS NEWSWIRE) — In a game-changing move, SioResin, a leading manufacturer specializing in sustainable products and technologies in the new material field, has unveiled its groundbreaking Dimethyl Silicone Oil. This innovative product is poised to redefine industry standards and drive advancements across various sectors.
Unleashing the Power of Dimethyl Silicone Oil
SioResin's Dimethyl Silicone Oil comes with an impressive array of advantages that distinguish it from traditional solutions:
Unmatched Quality and Stability
Renowned for its exceptional quality and stability, Dimethyl Silicone Oil guarantees consistent performance across a wide range of applications. Its reliability and outstanding performance make it an ideal choice for critical processes and formulations.
Versatile Applications
From chemical engineering to electronics, medical, automotive, and more, Dimethyl Silicone Oil by SioResin finds versatile application across diverse industries. Its multi-functional attributes enable seamless adaptation to various applications, making it a preferred option for professionals and manufacturers seeking reliable solutions.
Competitive Pricing
SioResin takes pride in offering customers premium Dimethyl Silicone Oil at a competitive price point. This affordability empowers businesses to access top-notch solutions without compromising on quality, giving them a competitive edge.
Customized Solutions
SioResin values individual customer requirements and provides tailored solutions to meet specific needs. Working closely with clients, our team of experts offers personalized formulations to ensure optimal results for their projects.
Reliable Supply Chain and Timely Delivery
Trusting in SioResin's commitment to customer satisfaction, clients benefit from a reliable supply chain that ensures uninterrupted availability of Dimethyl Silicone Oil. Timely delivery is of paramount importance to us.
Compliance with Regulations and Environmentally Friendly
Adhering to industry regulations and environmental standards, Dimethyl Silicone Oil by SioResin is an eco-friendly choice. We are dedicated to providing sustainable solutions for a greener future.
Outstanding Customer Support
SioResin excels in delivering exceptional customer support, responding promptly to inquiries, offering technical assistance, and providing comprehensive after-sales service. Our customer-centric approach ensures a seamless experience for all valued clients.
A Complete Range of Specialty Chemicals
In addition to Dimethyl Silicone Oil, SioResin offers a comprehensive range of premium-quality specialty chemicals, including water-based polyurethane, water-based acrylic resin, UV resin, silicone resin, defoamers, curing agents, and more. Our one-stop-shop approach simplifies procurement for customers and strengthens our position as a reliable supplier.
Driving Innovation and Sustainability
"I am thrilled to introduce SioResin's Dimethyl Silicone Oil, a testament to our commitment to driving innovation and sustainability in the new material field," stated Qing, CEO of SioResin. "With its exceptional properties and eco-friendly nature, Dimethyl Silicone Oil opens doors to new possibilities across various industries."
About SioResin:
SioResin is a leading manufacturer focused on delivering sustainable products and technologies in the new material field. Committed to advancing environmental responsibility and industry efficiency, SioResin continues to pioneer innovative solutions for a greener future.
Discover the Transformative Potential
Unlock the transformative potential of SioResin's Dimethyl Silicone Oil. For more information or to explore collaboration opportunities, please visit https://www.sioresin.com/silicone-resin.html or reach out to us at sales@sioresin.com .
RELATED LINKS:
https://www.sioresin.com/blog/dimethyl-silicone/
https://www.sioresin.com/uv-cure-resin.html
https://www.sioresin.com/silicone-resin/dimethyl-silicone-oil.html
News Source: SioResin
Related link: https://www.sioresin.com/
This press release was issued on behalf of the news source, who is solely responsible for its accuracy, by Send2Press Newswire. To view the original story, visit: https://www.send2press.com/wire/revolutionizing-industries-sioresin-introduces-breakthrough-dimethyl-silicone-oil/