SAN DIEGO, Calif. /California Newswire/ — ReverseVision, the leading provider of software and technology for the reverse mortgage industry, announced it has completed its integration with Informative Research, one of the nation's oldest and largest credit reporting agencies. The integration makes it faster and easier for users of RV Exchange (RVX) loan origination software (LOS) to order Premier Credit Report, Informative Research's version of the tri-merge credit report that has become the mortgage industry standard. Credit information supplied by Informative Research is available in RVX as of the system's June 16 update.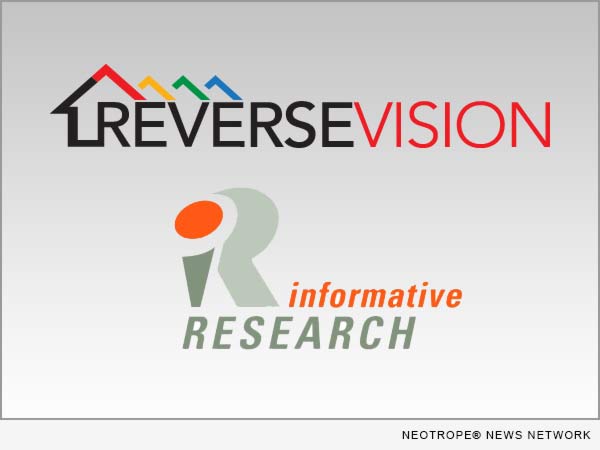 "With this integration, Informative Research and ReverseVision assure their mutual customers unmatched access to critical credit data needed for originating reverse mortgages. Further, the integration helps support our unceasing commitment to improving lender workflow and streamlining credit reporting capabilities," said Informative Research Chief Operating Officer Stan Baldwin.
Founded in 1946, Garden Grove, California-based Informative Research is dedicated to providing the industry's most accurate and complete residential mortgage credit reports and is renowned for its innovative technology. For decades, Fannie Mae and top lenders have trusted Informative Research and its proprietary Keystone logic system, which allows individual reports from the three credit bureaus to be merged into an easily understood, accessible format with duplicated or incomplete listings removed for lender efficiency.
"Through this integration with Informative Research, RVX users will experience ease-of-access to the critical credit information required to identify qualified borrowers," said ReverseVision Vice President of Sales and Marketing Wendy Peel.
RVX is San Diego, California-based ReverseVision's flagship product. The LOS serves as a centralized exchange, connecting all participants in the lifecycle of a reverse mortgage by allowing them to log in to a single system to share documents and information for each part of the loan process.
Informative Research enables lenders to customize how credit information is presented in a borrower's report and consistently provides turnaround times that are among the industry's fastest. It is particularly known for dedicated customer support specialists focused on helping lenders maintain the highest levels of borrower service. Informative Research has earned PCI and EI3PA compliant certifications for achieving the highest levels of security and data privacy.
"While a borrower's ability to qualify for a reverse mortgage is not dependent on his or her numerical credit score, HUD's Financial Assessment rules require reverse mortgage lenders to carefully consider the borrower's ability to meet financial obligations," Peel said. "That's why offering lenders the ability to order credit reports from within RVX has a significant impact on efficiency."
About Informative Research:
Informative Research, based in Garden Grove, California, is one of the nation's top mortgage information service providers. Founded in 1946, Informative Research has established a mission to develop and deliver effective, reliable and secure mortgage technology solutions. Informative Research's excellence in customer service has earned the trust of mortgage originators, servicers and quality control specialists throughout the country.
For more information, visit http://www.informativeresearch.com.
About ReverseVision:
Recognized as a Deloitte's 2015 Technology Fast 500(TM) Company, ReverseVision, Inc. is the leading software and technology provider for the reverse mortgage industry, offering products and services focused exclusively on reverse mortgages. More reverse mortgages are originated monthly using ReverseVision technology than all other reverse mortgage LOS combined. ReverseVision has partnered with some of the finest and fastest-growing lending organizations in the U.S. to provide the leading reverse mortgage technology to brokers, correspondents, lenders and investors.
ReverseVision is recognized as a driving innovator in the reverse mortgage industry. ReverseVision continues to improve its software with frequent new innovations and by building on pioneering capabilities in reverse mortgage interactive graphs, scenario analysis, multi-environment performance analysis and workflow in the origination process.
For more information, visit http://www.reversevision.com.